The Hosts of 'The View' Just Showed Us How Not to React to Someone's HIV-Positive Status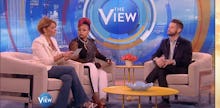 On Friday, former Who's the Boss child star Danny Pintauro stopped by daytime talk show The View to discuss the revelation he made about a week ago: He's HIV-positive. 
Hosts Candace Cameron Bure and Raven-Symoné conducted the interview, where Pintauro addressed why he waited 12 years to disclose his diagnosis. 
"This is the kind of thing you've got to be really really ready for. I haven't been ready before this," he said. "Telling the country and waiting for the response is something that takes some time." 
However, the line of questioning quickly turned from Danny's health — the reason for the interview — and into a session of hallmark victim-blaming.
Very early into the interview, Cameron, herself a former Full House child star, asked Pintauro if he took "responsibility for your actions, for being promiscuous, going into a lifestyle of having heightened sex because of the meth that you were using?"
Pintauro is open about the fact that he became addicted to crystal meth during his twenties. 
"As soon as I wanted to explore some rougher sides of my sexuality, I immediately encountered meth," Pinaturo said. Though he did use meth to enhance sex, Pintauro also disclosed that his meth abuse continued because of unaddressed mental health concerns.
Crystal meth use and HIV transmission is a double epidemic among gay men. While meth has its own negative effects, it can also put its users at risk for HIV transmission because its euphoric effects often make people less averse to risk and more desirous of pleasure. 
"Meth is such an effective agent for numbing feelings," social worker and sex therapist David Fawcett, Ph.D., told Mic. Fawcett, author of Lust, Men and Meth: A Gay Man's Guide to Sexual Recovery said that, in people who are HIV negative, meth poses a risk because it's an extremely effective antidepressant. "One client once said to me, 'It's an "I don't give a fuck: in a needle.'"  
Pintauro said he discovered his HIV status at a regular six-month HIV checkup, which is the CDC-recommended timeframe for regular HIV testing. According to the actor, he went back to work for six hours, then went home and cried.
Now, Pintauro is on HIV medications and the virus in his body is currently undetectable, which means that he is both very healthy and has a close-to-zero chance of ever transmitting HIV to a sexual partner. In fact, in one study of mixed-status couples who engaged in 30,000 unprotected sex acts while on suppressive therapy, not one single HIV-positive person transmitted HIV to their partner. 
Though Pintauro told the hosts that he knew his status and was on his medications, they still questioned his merits as a spokesperson for the HIV-positive community. 
"I want to know what the message is, because you want to be the face of HIV," Bure said. "What is the message that you have? What do you mean?" 
Raven-Symoné, after discussing the different ways you can "get AIDS," created a very tense moment when she asked Pintauro's partner about whether the couple have protected or unprotected sex. Pintauro's partner became visibly uncomfortable.
After Pintauro discussed his sex life, Bure read a pre-written statement saying, "if you are HIV-positive and still having unprotected sex, regardless of what antiviral drug percentages that you're using, you're still not keeping your partner 100% safe."  
However, HIV treatment is a form of HIV prevention. This is commonly called "treatment as prevention." 
Pintauro ended the interview by pointing out that he hopes to take a "Beacon of Light" tour of different LGBT pride events to discuss the importance of testing and knowing your HIV status and being on HIV medications.