Sanders Stands by Obama and Rejects Clinton Plan for a "No-Fly Zone" in Syria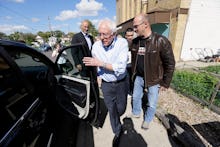 Sen. Bernie Sanders (I-Vt.) would oppose any attempt to unilaterally impose a "no-fly zone" over Syria, breaking with fellow Democratic primary candidate Hillary Clinton, who in an interview Thursday said she would "advocate" for one in order to "create humanitarian corridors" on the ground.
In a statement emailed Saturday, Sanders expressed his support for President Barack Obama's policy of bombing Islamic State group targets while offering support to rebel factions fighting to topple Syrian President Bashar al-Assad. 
An attempt to create a no-fly zone over the country, Sanders said, "could get us more deeply involved in that horrible civil war and lead to a never-ending U.S. entanglement in that region."
"We do not want to make a very complex situation in Syria even worse," Sanders said. "I support President Obama's effort to combat the Islamic State in Syria while at the same time supporting those in Syria trying to overthrow the brutal dictatorship of Bashar Assad."
On Friday, Obama dismissed the idea of a no-fly zone, saying it would be too difficult to enforce. "She was obviously my secretary of state," he said of Clinton. "But I also think that there's a difference between running for president and being president."
The situation in Syria has been further complicated over the past week, as Russia launched its first round of airstrikes in the region. Though Moscow initially claimed to be targeting only Islamic State militants, they have since adjusted their public position and admitted to attacking additional rebel groups opposed to the Assad regime. 
In a statement released Thursday, the U.S. and its allies condemned "the Russian military build-up in Syria and especially ?the attacks by the Russian Air Force on Hama, Homs and Idlib since yesterday which led to civilian casualties and did not target [the Islamic State group]." 
Obama, in his remarks Friday, was especially blunt.
"Mr. Putin had to go into Syria not out of strength but out of weakness, because his client, Mr. Assad, was crumbling," the president said. "And it was insufficient for him simply to send them arms and money; now he's got to put in his own planes and his own pilots."