Wendy Williams Wants Everyone to Know the Huge Problem With Terrence Howard and 'Empire'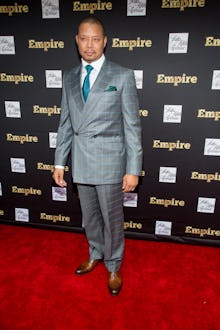 He's one of the hottest TV stars around. However, the man who plays Empire's Lucious Lyon, actor Terrence Howard, also has a well-documented history of domestic abuse. Now, prominent people are calling for Howard to be kicked off of FOX.
In a recent segment on The Wendy Williams Show, the hostess said that given Howard's well-documented record of violence against women and his apparent mental health issues, he should be taken off Empire's cast list.
Williams explained "Terrence Howard your personal life has taken over to where if by chance they took you off the show I would be happier than mad."
By 2013, Defamer reports, Howard had racked up six separate allegations of violence against women, including an assault on a flight attendant, kicking down the door of an estranged wife's house and hitting her in the face, punching another wife in the face one week into their marriage, and attacking a mistress in front of another girlfriend.
Williams referenced both the accusations of domestic violence and a recent interview with Rolling Stone in which Howard, among other things, told reporter Erik Hedegaard he had developed his own system of logic called Terryology and spent up to 17 hours a day with his most recent ex-wife, Mira Pak, creating art intended to demonstrate one times one equals two. 
According to Williams, Howard's personal life has long since overshadowed his role on Empire, making it difficult to stomach his performance as an actor.
"It's usurped his entire situation at Empire, and the show could do without Terrence Howard," she admitted. "I'm sorry. It's how I feel."
One of Howard's ex-wives and alleged victims, Michelle Ghent, was recently involved in a legal controversy over the status' of Howard's paychecks from FOX.
Howard may be entitled to some degree of privacy surrounding his personal life — but as Williams argues, that privilege does not and should not extend to violence against women. As a central character in the hit show, though, it may take more than conscience to convince FOX that Howard is a liability.
h/t Bossip