'Saturday Night Live' Kicks Off 41st Season Premiere With Hillary Clinton Appearance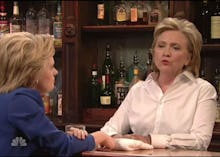 Saturday Night Live kicked off its 41st season premiere with a sketch starring comedian Kate McKinnon as Democratic presidential contender Hillary Clinton, who seemed down in the dumps amid slogging poll numbers at a local bar.
McKinnon's Clinton seemed like she needed someone to talk to. Fortunately for her, the bartender in question, "Val," happened to be Hillary Clinton herself.
The two Clintons immediately hit it off.
The  Clintons traded self-deprecating jokes about Clinton's policy positions, in particular her history of being accused of following public opinion polls rather than leading on the issues. 
The real Clinton also did her best Trump impression, saying "Donald Trump? Isn't he the one that's like 'Ugh, you're all losers?'" The fake Clinton explained that she would like to "mount his hair in the Oval Office."
Finally, a man at the end of the bar was revealed to be Bill Clinton (played by Darrell Hammond), who realized to his horror that Hillary was "multiplying."
It's a pretty good sketch as far as presidential campaign comedy goes and yet another indication that, following President Obama's infamous (and hilarious) appearances on shows like Zach Galifianakis' Between Two Ferns, candidates are increasingly turning to late-night and online comedy programs as a way to convince voters they're not too self-serious.
Trump himself made a recent appearance on The Tonight Show With Jimmy Fallon, in which the self-assured candidate interviewed himself in a mirror, while Clinton also made an appearance on Fallon's show — in which she was interviewed by Fallon as Trump.
As the Clinton campaign continues its very public attempts to make their candidate seem more genuine in the face of a surging Bernie Sanders, expect more outreach efforts along these lines.
Other notable sketches of the evening included a cold open in which Donald Trump (Taran Killam) and Melania Trump (Cecily Strong) attempted to explain the candidate's racist remarks, as well as a visit from Pope Francis (Kylie Mooney).