UCC Shooter's Father Says Stricter Gun Laws Might Have Prevented Massacre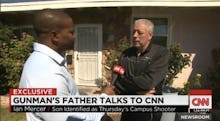 Ian Mercer, father of the man who killed nine people and wounded nine others before committing suicide at Umpqua Community College in Roseburg, Oregon, on Oct. 1, issued a passionate call for the U.S. to restrict access to firearms during an interview Saturday with CNN.
Mercer called the event "devastating" and said he was trying to understand how his son, Chris Harper-Mercer, could have assembled such an arsenal.
"How on earth could he compile 13 guns? How could that happen?" Mercer asked during the interview.
According to the New York Times, Harper-Mercer's parents divorced roughly a decade ago. Mercer says he had not seen his son in the past two years.
"We talk about gun laws," he continued. "We talk about gun control. Every time something like this happens, they talk about it and nothing gets done. I'm not trying to say that that's to blame for what happened, but if Chris had not been able to get hold of 13 guns, this wouldn't have happened."
"I'm a great believer you don't buy guns, don't buy guns, you don't buy guns ... someone has to ask the question: How is it so easy to get all these guns?"
He added that the country's relationship to firearms has "to change. How can it not? Even people that believe in the right to bear arms, what right do you have to take people's lives? That's what guns are, the killers. Simple as that. Simple as that. It's black and white. What do you want a gun for?"
According to Vocativ, a woman who appeared to be Harper's mother posted on Facebook in 2014 about the arsenal she kept at home, defending open-carry laws.
"... as long as we're tossing around brand names, I sling an AR, Tek-9 or AK over my shoulder, or holster a Glock 21 (not 22), or one of my other handguns, like the Sig Sauer P226, and walk out the door," the woman wrote. "I find the shotguns are a little too cumbersome to open carry."
Presidential candidates have issued varying responses to the shooting. While Democrat Hillary Clinton issued calls for more gun control, Republican and former Florida Gov. Jeb Bush did not mention guns at all.
In the wake of the shooting, President Barack Obama said that the U.S. public should "politicize" the debate about guns, telling reporters "The reporting is routine, my response here at this podium is routine, the conversation in the aftermath of it — we've become numb to this. What's also routine is that somebody somewhere will say, 'Obama politicized this issue.'
"Well, this is something we should politicize. It is relevant to our common life together," the president added. "... our thoughts and prayers are not enough."
There were 142 mass shootings between the massacre at UCC and the December 2012 Sandy Hook Elementary School shooting in Newtown, Connecticut, that left 20 children and six teachers dead.