21 Photos From Amber Rose's Triumphant LA SlutWalk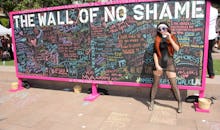 David Edwards/MediaPunch/AP
Hip-hop model Amber Rose brought the SlutWalk tradition to the city of Los Angeles this weekend, holding an event on Saturday that drew hundreds of people in the city's downtown district.
SlutWalks are events in which at least some participants dress in revealing costume to send a message about consent — namely, that regardless of the way person dresses or acts, they are not to blame for being sexually harassed or assaulted. Participants hope to counter a pervasive environment of victim-blaming that treats victims of sexual abuse as complicit in their own victimization.
LAist reports the list of attendees included Rose's mother, who held a sign rebuking hip-hop icon and Rose ex-boyfriend Kanye West's recent comments that "It's very hard for a woman to want to be with someone that's been with Amber Rose...I had to take 30 showers before I got with Kim [Kardashian]."
Other well-known attendees from the social justice community were plus-size model Tess Holliday and LGBT activist Janet Mock.
Here's other some scenes from the parade:
Social media users also joined in, posting their photos on Instagram under the hashtag #amberroseslutwalk.
In what LoveBScott.com called a "tearful speech" at the parade, Rose forgave Kanye West and Wiz Khalifa for negative remarks they had made about her, saying she wanted "to let all of that negativity go."