Police Arrest 4 Students for Allegedly Planning School Shooting in Tuolumne, California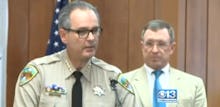 Police arrested four Summerville High School students in Tuolumne, California, after uncovering evidence they planned to commit a major school shooting.
Tuolumne County Sheriff Jim Mele told reporters on Saturday he had obtained confessions from the plotters and "that they were going to come on campus and shoot and kill as many people as possible," USA Today reports.
"As each one of them was identified they were removed from campus," Mele said. "Their parents were called."
The plot was only in the formative stages. School administrators tipped off the sheriff's department to alleged threats against students and staff earlier this week.
The Modesto Bee reported Mele told the press conference, "I believe, with all my heart, the reason we were able to stop this was because we have a level of trust within our community. When you have a level of trust with the law enforcement, your education – we meet monthly, we meet constantly – you can do this."
No firearms or explosives were recovered. Mele told the press they were "pretty doggone close" to obtaining weaponry and were planning the massacre around an upcoming event.
"You watch it on the news all the time, it happens all the time," parent Kristin Wilson told the Bee. "But you don't think it will happen to your daughter. When it becomes this really it hits a part of your heart you never want to be touched ... This happens so much and it needs to stop."
A mass shooter killed nine people and injured nine others during a shooting at Umpqua Community College in Roseburg, Oregon, this week. There were 142 mass shootings between that shooting and the December 2012 Sandy Hook Elementary School shooting in Newtown, Connecticut, that left 20 children and six teachers dead.
........