Demi Lovato Just Posed Nude for the First Time Ever for a Very Feminist Reason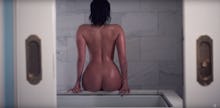 Singer-songwriter Demi Lovato just did her first nude photo shoot ever, baring all for a no-makeup spread in Vanity Fair — and says she's doing it for an empowering, feminist reason.
Photojournalist Patrick Ecclesine writes she had three rules for the body-positive photo shoot, "no makeup, no clothes, no retouching." Lovato wanted the opportunity to send the message to young women and others that they could feel comfortable in their own bodies without any alteration.
As an outspoken feminist, Lovato wanted the shoot done according to her rules.
"I want to show the side of me that's real, that's liberated, that's free," Lovato told Ecclesine. "What if we do a photo shoot where it's totally raw? Super-sexy, but no makeup, no fancy lighting, no retouching, and no clothing. Let's do it here, let's do it now."
The spontaneous photo set, Lovato explained, was the result of her reaching a point where she was comfortable showing others what she looks like without all the filters.
"I would have never thought that I would have ever gotten to a place in my life where I could feel comfortable doing that," Lovato said in a video interview released alongside the images. "It's empowering, and it shows other women that you can get to a place where you can overcome the obstacles of body-image issues."
"I learned that you can get to a place where you love the skin you're in, and I'm excited to share that with the world," she added.
h/t Vanity Fair