Elizabeth Warren: Republicans Want to Go Back to the 1950s, "A World Where Women Die"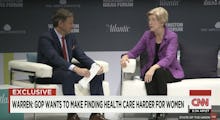 In an impassioned interview with CNN's Jack Tapper at the Washington Ideas Forum last week, Massachusetts Democratic Senator Elizabeth Warren aimed her ire at recent Republican efforts to defund Planned Parenthood, which she said belied an unspoken agenda.
"Make no mistake, what this is really about is about women's access to abortion," Warren said. "Even though not one federal dollar goes to pay for abortions through Planned Parenthood, the Republicans want to find one more way to make it harder — to make it impossible — for a woman who is facing one of the most difficult decisions of their life. They want to find a way to make it harder on her to get the health care she needs."
Warren added that Republican efforts would turn the clock back half a century on women's rights and return the United States to a very dark place. 
"When I talk about 1955, I'm talking about a world where women die, I'm talking about a world where women committed suicide rather than go forward with a pregnancy they could not handle," she said. "We are not going back, not now, not ever." 
After her monologue, a live audience listening broke into applause, prompting Tapper to suggest, "It's too bad they're not doing a straw poll here."
While Republicans have historically been wary of Planned Parenthood due to the health care network's abortion-providing services, the issue exploded into public consciousness earlier this year with the release of a number of videos allegedly showing executives of the women's healthcare provider "selling" the remains of fetal body tissue. The footage, secretly recorded by the Center for Medical Progress, was heavily doctored, according to experts. 
As Warren noted, while the U.S. does fund Planned Parenthood, no federal money is presently used for abortion. (The Hyde Amendment of 1976 prevents federal funds from covering abortion except under limited circumstances.) Meanwhile, the health care organization has consistently maintained that its executives did nothing wrong and that Planned Parenthood routinely donates fetal remains for scientific research, only charging fees for associated costs. 
"Affiliates are not looking to make money by doing this. They're looking to serve their patients and just make it not impact their bottom line," said Deborah Nucatola the senior director of medical services at Planned Parenthood in one video. "No one's going to see this as a money making thing."
The CMP, a noted anti-abortion non-profit, edited both quotes out of the original footage they released. 
Warren has repeatedly ruled out becoming a candidate in the 2016 race, but many have speculated about the possibility of tapping the liberal icon for vice president on the eventual Democratic ticket.