South Carolina Flooding 2015: Images, Impact and Latest Forecast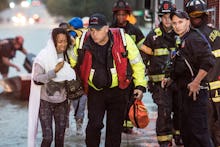 South Carolina was struck with severe flooding over the weekend in a rare rainfall that only has a 1-in-1,000 chance of happening any year. The deluge has caused tens of thousands of residents to be without power as the National Guard, aircraft and other emergency response teams were deployed to the state. At least six people were killed and hundreds others rescued in the state's wettest day in history Sunday, the Weather Channel reports. 
 According to the National Weather Service, a record 6.7 inches poured onto South Carolina between Saturday and Sunday. President Barack Obama declared a state of emergency in South Carolina, calling the rainfall "unprecedented," according to Las Vegas Review-Journal. 
Mayor Steve Benjamin imposed curfews in South Carolina's capital of Columbia beginning at 6 p.m. ET Sunday through Monday morning in order to better aid and protect inflicted areas. The mayor tweeted to residents in the area asking them to stay in their homes and off the roads.
The forecast calls for rain to continue but slow down throughout Monday, according to local weather reports. Wind advisories were in effect through Monday morning as efforts continued to rescue those impacted by the disastrous flooding. 
Images began circulating the Internet immediately after major flooding hit parts of South Carolina, showing the impact and devastation caused by the historic flooding, as well as first responders and local residents diligently working to mitigate the impact on the area and help flood victims.