YouTube Star Caleb Logan Dies at Age 13 From "Natural Causes"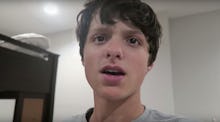 YouTube star Caleb Logan Bratayley, whose family is famous for their YouTube reality show, has died at age 13, his mother Katie Bratayley first revealed in an Instagram post on Friday. 
In the caption of the post, Katie Bratayley revealed her son died from "natural causes" on Thursday at 7:08 p.m. "This has come as a shock to all of us," she wrote. "Words cannot describe how much we will miss him." She wrote that he'll be missed as a "YouTuber, friend, brother and son" and asked that fans of the show be patient in the absence of the family's daily YouTube videos while they "deal with this tragedy as a family."
"Please help us honor our baked potato," she concluded.
Caleb's family, whose real last name isn't Bratayley, according to People, became well known in 2010 after turning their lives into a daily show for YouTube. The Internet series starred Caleb Bratayley and his sisters Annie, 10, Hayley, 7, his mother Katie and his father Billy. Their YouTube channel now has over 1.5 million subscribers.
The ambiguous "natural cause" of his death was a shock for the show's fans. "This is so sad. It's really scary how life can just be taken away from you without warning," one fan wrote in the comments of Caleb Bratayley's last YouTube video. "Did Caleb already have a problem breathing or was it just a total accident?" another fan wrote. 
On Saturday, Katie Bratayley uploaded a video of the family from the day before his death in which she asked her children what they would ask their future selves. He said he'd want to know if "Taco Bell is still around" and if "there are any new sports," followed-up by a written message on the screen re-confirming his death. 
"Unfortunately, Caleb passed away the day after we made this video," it reads. "He will never get to meet his future self."
The message reminds parents to "kiss your kids and tell them that you love them every day" because "you never know what day will be their last."
On Sunday, the family posted a heartfelt mashup of Caleb Bratayley's best moments on the show.