Drake's 'Views From the 6' Still Hasn't Been Released, But Here's What We Know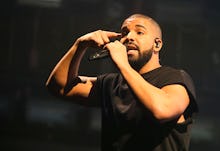 Fans are still on the edge for Drake's upcoming album Views From the 6, though the rapper told Fader on Sept. 24 that it's arrival was imminent.
The "Hotline Bling" singer is collaborating with his longtime producer Noah "40" Shebib for the upcoming album. The two are currently in the studio in Toronto, Drake's home city, according to Fader. Here's what we know about Views From the 6 from album art to guest artists, release date and more. 
Guest artists: Drake's album is expected to feature collaborations with rapper Kendrick Lamar and "Player" singer Tinashe, according to Genius.
Drake's latest track with Beyoncé, titled "Can I," which officially dropped Saturday, is expected to appear on the upcoming album, Billboard reports. The two artists last collaborated in 2013 on the track "Mine" for Beyoncé's self-titled album. 
Source: Soundcloud
In late August, Drake teased a verse from Views from the 6 at rapper J.Cole's homecoming show in Fayetteville, North Carolina, flexing about the trials and tribulations of rap stardom. "I put my own club in the rapper's arena/ Championship celebrations during regular season," he rapped to a hyped live audience. "Paternity testing for women that I never slept with/ I'm legally obligated if they request it." 
An improved Drake: The album art and official track list for Views from the 6 are to be determined, however Drake told Fader he and 40 have higher standards for this album than they held for If You're Reading This It's Too Late, released in February. Drake said he considered his last album a "retail mixtape" instead of a proper album.  
"By the standard I hold myself and 40 to, it's a bit broken," Drake told Fader of If You're Reading This It's Too Late. "There's corners cut, in the sense of fluidity and song transition, and just things that we spend weeks and months on that make our albums what they are. ... It was the setup to be able to return to working solely with 40, which is where I'm at now. I just wanted to be able to come back to that and have it be important."
Drake's music career hasn't been without controversy lately. In a highly publicized recent feud, Philadelphia-based rapper Meek Mill went on a Twitter rant accusing Drake of ghostwriting in July. Drake responded with the freestyle diss "Back to Back," which debuted at No. 8 on Billboard's Hot R&B/Hip-Hop songs list in August.