Kid Cudi Streams Singles "Wedding Tux" and "Judgmental C--T" Online: Here Are the Lyrics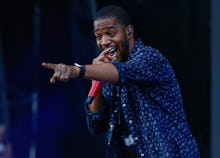 Kid Cudi's Speedin' Bullet to Heaven may not be on its way as quickly as the title would imply, but that isn't stopping the artist from putting out new music. The "Pursuit of Happiness" rapper, whose real name is Scott Mescudi, on Saturday shared with Twitter fans the news that he'd dropped two new singles, presumably off his anticipated new album, whose release date is TBD.
The new singles, titled "Wedding Tux" and "Judgemental Cunt," are just as alternative as Kid Cudi himself, whose music has been anything but mainstream. "'Weird' itself, even in the dictionary, is just something that is different and unexplainable," he told Complex in 2009. "A 'weirdo' is someone who follows their heart. I'm definitely weird, ain't nothing wrong with that."
The rapper uploaded the first of the two singles to SoundCloud on Saturday, captioning the post, "For all the fucked up kids like me :)." The song "Judgemental Cunt" features predictably harsh lyrics.
Source: SoundCloud
"You're just some fucked up little kid/ Just some loser kid and you're never ever going to be shit/ Everywhere he goes loser little kid, introverted kid/ Hating everybody type of kid/ Look at you dumb punk loser kid/ You ain't never going to be shit somebody told you lies."
"Wedding Tux" features the artist crooning over a slow-paced melody, which sounds like it was recorded all in one take, while playing an acoustic guitar.
The lyrics paint the scene of a broken relationship and a man's hatred for the world:
"Emotional slave slut/ She push and pulls/ Uses me for what she needs/ Just an emotional slave slut/ Being tossed aside like rotting meat/ While the maggots and vultures feast/ Feasting on my memories."
Whether "Wedding Tux" and "Judgemental Cunt" are personal reflections on the artist's life is unclear. However, Kid Cudi has said Speedin' Bullet To Heaven is a very raw, real project, with all of the musical instruments and lyrics being recorded by the artist himself. 
Both of the latest singles from Kid Cudi are available via SoundCloud.