Fall's Best, Cheapest Accessory Takes Inspiration From 'Office Space'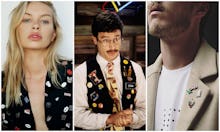 Blame it on decreasing temperatures and our constant need to accessorize: Enamel pins, once mocked in movies like Office Space, are making a comeback. Some people are even going so far as to call them this season's answer to the tattoo. 
"They're easy," Prize Pins co-founder Kym Naimo told Mic. "They're less permanent than a tattoo but more precious than a T-shirt." 
Most often seen on your friends' leather jackets and canvas bags, pins have also made a comeback on your Instagram feed. One quick search for #pins on the photo-sharing app shows more than 390,000 posts, offering a small glimpse at how pin-wearers are showing off their latest enameled accessories. 
Want everyone to know just how much you appreciate emotional Drake? There's a crying Drake pin for that. Want to bring a little Beyoncé with you wherever you go? Here's the pin for you. Want a poop emoji pin? Oh, you bet you're covered. With just a single one-inch-by-one-inch metal illustration, someone can express just about any emotion under the sun or just be like, hey, I really like zombies. 
From Mercury in retrograde references to tiny pairs of Yeezy Boosts, enamel pins give wearers the chance to indulge in some nostalgia and broadcast just how pop culture literate they really are to the entire social media world. 
It's also a chance to wear something artful for $20 or less. 
Pins as art. Naimo, who launched his company Prize Pins just last year, told Mic that his company's main goal was to "elevate the pin" and provide art fans with access to a tiny piece of original artwork. Most of Prize's pins look to old-school motorcycle gang paraphernalia for inspiration, along with collaborations with artists Stef Mitchell and Jean André. Naimo says that Prize specializes in an artistic "trash" aesthetic, with their customers gravitating towards pins showing overflowing garbage cans and medals that say "Average citizen."
"It's a really nice way to be involved in that art world without spending thousands of dollars," Naimo said.
Subconsciously, the rebranding of pins has also altered the idea of what a pin-wearer looks like. Ten years ago, it was the greasy-looking skater who grew up in the neighborhood next to yours. Five years ago, it was your aunt who liked Disney World just a little too much. Now, it's younger men and women who are looking to personalize and make a statement with their clothing, whether it be a feminist outcry or an announcement that they really love Broad City.
Instagram, oh Instagram. Also adding to the pins' appeal is their inherent "Instagramability."  As Pintrill founder Jordan Roschwalb said, advertising and selling pins can be done entirely on the photo-sharing site. "Instagram is great because you don't need to be running around trying to find [the pins you want]. I've traded probably 30 or 40 pins just through Instagram," he told Refinery29.
With more artist collaborations and celebrity collections than any other pin retailer, Pintrill has cultivated a fan base so voracious that the restocking of a favorite pin (like the crying Kim Kardashian) makes headlines. 
"We've found a way to make [pins] fresh and new and keep it current by playing off of pop culture and what's big [on social media] right now, whether it's on Facebook or Instagram or Twitter," Roschwalb said.
The company's account, which currently has more than 34,000 followers, tries to play into all of pop culture's movings and shakings in real time. For example, just one day after Kanye West made his legendary presidential bid at the MTV VMAs, Pintrill posted a new Kanye for President collection, which then blew up on social media. 
Fashion in real time. Because pins are cheap and easy to produce, fans can amass quite a wide-ranging collection in a short period of time. One day, someone could want to pin a moon emoji to their lapel. The next, they could want a chocolate-frosted donut with arms. There's a variety working in pins' favor unlike any other accessory today. 
"You're not held into a single aesthetic. You can be dark or humorous or high minded," Naimo said. 
"Essentially, it's not the culture of the pins that's important, but more so the culture of yourself — you're able to capture all these different pieces of yourself through pins," Roschwalb told Refinery29. 
Now with fall upon us, expect to see more and more of your friends embracing this kitschy accessory, where the possibilities are literally endless.