Hillary Clinton Just Unveiled Her Plan to End Gun Violence in America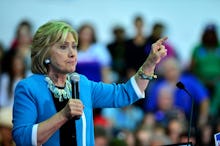 As the country cycles through the routine of horror, mourning and anger after the latest school shooting to rock the United States, White House hopeful Hillary Clinton is pledging to try to make them a thing of the past.
"It's time for us to say 'wait a minute — we're better than this. Our country is better than this,'" Clinton said Monday during a town hall in New Hampshire.
Just a few days after the mass shooting at Umpqua Community College in Oregon that left nine dead, Clinton unveiled a collection of policy proposals designed to counteract mass shootings, which occur in the United States far more frequently than in any of its peer nations.
"America simply cannot accept as 'normal' 30,000 gun deaths every year," Clinton's campaign wrote in a policy paper on gun control released Monday. "As a nation we can no longer allow guns to fall into the hands of domestic abusers, other violent criminals and the seriously mentally ill." 
The Clinton camp has been under intense pressure lately, with her main competitor Sen. Bernie Sanders (I-Vt.) climbing in the polls and increasing scrutiny over her use of a private email server during her tenure as secretary of state. 
But the rollout of her policy ideas for curbing gun violence, which reveals the most tenacious stance on gun control she's held this year, represents something she's been doing well this campaign — responding to the political moment with targeted proposals that sit well with her base. And at least one of her proposed reforms goes further than her anti-establishment opponent.
The plan: Clinton's proposals include expanded background checks, holding the gun industry legally responsible for their role in unsafe gun practices and measures for keeping guns out of the hands of people most likely to misuse them. Perhaps most notably, she says she would bypass Congress to accomplish some of her goals if she must.
Clinton takes aim at various holes in the way background checks are conducted around the country. She calls for robust federal legislation to aggressively address issues like finding ways to impose background checks on transactions involving unlicensed dealers online and at gun shows. She pledges to act on this front even if Congress refuses to do so, and commits to using executive authority to "require that any person attempting to sell a significant number of guns be deemed 'in the business' of selling firearms." That language would mean that retailers at gun shows and on the Web would be subject to the same laws that apply to gun stores. 
Clinton also commits to closing the "Charleston loophole," a reference to the gap in the law that allowed the man who allegedly killed nine people in a South Carolina church in June to purchase a gun despite having pending felony charges. Under current law, if a background check takes more than three days, the sale can go ahead without final confirmation of the background check — a policy that results in thousands of unregulated purchases a year. 
Clinton's policy rollout takes aim at the gun industry itself. She calls for repealing the Protection of Lawful Commerce in Arms Act, a George W. Bush-era law that protects the gun industry from liability for crimes committed with their weapons. She also commits to investing more money into making sure that gun stores are complying with the law — and cracking down on those who don't.
The proposals call for establishing firm prohibitions on gun purchases for people who are disproportionately likely to misuse a firearm. She calls for legislation that bars all domestic abusers from purchasing guns, as well as people who have been involuntarily committed to outpatient treatment. 
The competition: At least one of Clinton's proposed reforms is in stark contrast with Sanders, who hails from Vermont, a rural state with an established gun culture. Accordingly, he has a complicated record on gun control.
The point of disagreement is on repealing the Protection of Lawful Commerce in Arms Act, a law that Clinton voted against as a senator, but Sanders voted in favor of when he was in the House of Representatives.
"Sanders has defended his vote by arguing that the alternative would be akin to punishing a hammer-maker if someone used a hammer as a weapon," Sam Stein reports for the Huffington Post. "But gun control advocates argue that the law opens the door to negligent manufacturers who don't fear being penalized when their firearms flood a community or market."
But another candidate has them both beat on promises. Former Maryland Gov. Martin O'Malley has pledged to cut death from gun violence in half within 10 years of taking office. How does he plan to do it? Mostly through making purchasing a gun become far more rigorous, with measures such as requiring all online sales to be completed in person through licensed dealers, raising the legal age for buying a gun and requiring all purchasers to obtain a fingerprint-based license.
For her part, Clinton's swift rollout of a gun control plan so quickly after the Oregon shooting shows she is quick to react to hot-button political issues of the day with her own concrete policy proposals, forcing other candidates to engage in the debate.