Palestinian Reporter Goes Back on Air Hours After Being Hit in the Face by a Stun Grenade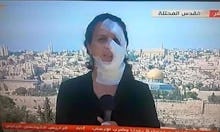 Palestinian TV journalist Hanna Mahameed is being hailed a hero for going back on air just hours after a stun grenade discharged by Israeli police struck her on the face while she was reporting from predominantly Arab East Jerusalem on Sunday.
The reporter can be heard screaming off camera; she is then filmed grabbing her face in pain as she's surrounded by men who remove her bullet-proof vest and whisk her off to get medical care.
"[She has] holes in her face and neck" and was told to recover before returning to work, Mahameed's colleague, Raed Sobies, told the Independent. 
"Of course it's not good ... we don't know yet what the result [of her injuries] will be, and whether she will be scarred," Sobies said in the interview. "We've been looking for someone to relieve her situation but it's not easy," he said of restrictions placed on reporters and the difficulty to get access approved by the Israeli government.
People on Twitter praised and recognized the TV journalist for her courage. 
Mahameed was reporting for Al-Mayadeen, a TV station based in Lebanon, on Palestinian-Israeli clashes that unfolded when a Palestinian teenager, 19-year-old Fadi Alloun, was shot and killed by police earlier that day.
"Riot dispersal means [were used on demonstrators]" and "whoever is present with law-breaking rioters risks getting injured," Luba Samri, Israeli police spokeswoman, told the Associated Press. 
There is a conflicting version of why Alloun was killed: Israelis say he stabbed an Israeli teenager, while Alloun's family say he was attacked by a mob of roughly 70 settlers while on his way to work. Tensions subsequently mounted, and Israeli police forces were attempting to detain Alloun's father when Mahameed was hit in the face.