Carly Fiorina's 2010 Campaign Was So Badly Managed That She Couldn't Pay Some of Her Staff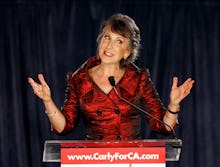 The fallout from Carly Fiorina's failed 2010 Senate campaign is beginning to cloud her prospects for the Republican presidential nomination in 2016.
The former Hewlett-Packard CEO, who has put her business experience at the center of her case to voters, is coming under attack now for not paying staff during her first run for office, then refusing to settle oustanding debts in its aftermath — all while repaying herself the $1.3 million she had lent her campaign.
According to a new Washington Post report and contemporaneous Federal Election Commission records, Fiorina sat on nearly $500,000 in unpaid bills for years after she lost her bid to unseat California Sen. Barbara Boxer (D). She only fulfilled her obligations in the months before entering the current race.
The widow: Most damningly, the Washington Post account highlights the story of Joe Shumate, a pollster who died on the job a month before the 2010 election. At the time of his death, Fiorina owed Shumate's firm an estimated $30,000. Upon news of his passing, Fiorina released a statement calling Shumate "an integral and senior member of my team." 
"I am honored to have been able to call Joe a trusted advisor and friend," the statement continued, "and to have earned his respect and confidence." Shumate's family and company, however, went more than four years without being compensated for his work on Fiorina's behalf.
Unsurprisingly, a number of former Fiorina staffers have been vocal about their distaste for the candidate. "I'd rather to go to Iraq than work for Carly Fiorina again," one told Reuters in May, a few weeks after Fiorina launched her current campaign.
Bad business: Based on a remarkable quote give to the Washington Post on Sunday, the lack of interest from some parties in a reunion seems well justified.
"If we didn't win, why do you deserve to get paid?" asked Jon Cross, a top official for Fiorina's 2010 campaign. "If you don't succeed in business, you shouldn't be the first one to step up and complain about getting paid."
It's an interesting theory, in a way, but unlikely to win over any new recruits.
Fiorina, who was fired from HP in 2005, did not succeed at the Silicon Valley giant — in fact, her tenure there is regarded by many in the industry as an unmitigated failure. Before her own dismissal, Fiorina laid off 30,000 employees in an attempt to restructure the operation.
When Fiorina was eventually axed herself, she exited with a "golden parachute," leaving her position with a severance package valued at $21 million. She and husband Frank are, according to her campaign, worth an estimated $59 million.