Fatal Shooting of 8-Year-Old Girl by 11-Year-Old Boy Reveals Hidden Epidemic in America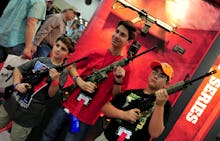 An 8-year-old girl is dead in Jefferson County, Tennessee, after her neighbor's 11-year-old son attacked her with a 12-gauge shotgun.
WBIR reports Sheriff Bud McCoig told reporters the boy obtained his father's shotgun inside the house and used it to shoot the girl, identified by neighbors as Maykayla Dyer. 
Local resident Chasity Arwood told the station the boy wanted "to see a puppy" Dyer was playing with, before "the little girl laughed and told him no, and that was it."
Both children attended White Pine Elementary School.
"As much as they've been hurt by this tragedy as everybody in the community has, we just ask you to bear with us and pray with us," McCoig told reporters, according to WVLT.
It's far from the first time a child in the United States has picked up a gun and caused a tragic situation. In Nashville in 2013, a 4-year old picked up a loaded pistol and shot the wife of a sheriff's deputy dead at a barbecue. That same year, another child killed his 2-year-old sister with a rifle he received as a birthday present. 
Earlier this year, a 1-year-old was killed by another child who picked up an unsecured firearm.
In a just world, the death and injury of so many children by firearm would elicit not just shock and prayers, but also calls for effective action to reduce the violence. But in the U.S., the culture of gun rights is so entrenched that prominent Republican candidate for president and former Florida Gov. Jeb Bush dismissed a mass shooting at Umpqua Community College in Roseburg, Oregon, by saying "stuff happens," a position mirrored by much of the GOP field.
DailyKos blogger and gun violence activist David Waldman keeps a partial Pinterest list of children under 15 killed by firearm accidents in the U.S. So far in 2015, the list stands at 64 children, a likely underestimate by far of the actual fatalities.
Gun deaths like these are commonplace in the U.S.: A little girl dying after a shotgun blast is a horrific mental image. But in the U.S., which has a firearms homicide rate of 29.7 per million people, it's just one of many similar tragedies that occur on a nearly constant basis.
While jaw-dropping massacres at colleges, malls and other places where large numbers of people congregate tend to draw national attention, everyday accidents, assaults and miscellaneous gun discharges are killing and maiming far more children.
A study in the journal Pediatrics in 2014 estimated firearms were responsible for roughly 10,000 injuries or fatalities among children in the U.S. in 2009, with gunshot wounds sending about 20 children to the hospital each day. Of the 7,391 gun injuries resulting in hospitalization the researchers studied, just short of one third were unintentional. Unintentional wounds made up about 75% of such hospitalizations among children under 10.
"That's more than 7,000 children injured badly enough to be hospitalized," study lead author and Yale researcher Dr. John Leventhal told NBC, adding another 3,000 children died that year before they could be brought to a hospital. "All are unnecessary hospitalizations, because preventing gun violence is something that can actually be done."
A hidden epidemic: Although the total number of children who are injured or killed by firearms is unknown due to the lack of comprehensive national statistics, a 2013 investigation by the New York Times "of hundreds of child firearm deaths found that accidental shootings occurred roughly twice as often as the records indicate, because of idiosyncrasies in how such deaths are classified by the authorities." 
"The official CDC numbers depend on how the deaths are designated by medical examiners, and there are no consistent standards for determining whether a death is 'accidental,' nor any consistent taxonomy for report deaths even once they're determined to be accidental," Waldman told Mic in April. "To figure out the 'true' number, you'd just have to comb through the death certificates and medical examiners' records for every single gunshot death among kids aged 14 and under."
According to anti-gun group Everytown For Gun Safety, the vast majority of accidental gun deaths among children take place in either the victim's home or at the home of a relative or friend, and most such deaths could be prevented were firearms properly secured. 
The Jefferson County Sheriff's Office did not respond to a request for comment.