World Beard and Moustache Championships 2015: Photos From this Year's Facial Hair Contest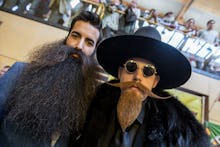 The world's boldest beards and mustaches, and the men who don them proudly, gathered in Leogang, Austria, over the weekend to compete in the World Beard and Moustache Championships. Although the winners from this year's contest have not yet been posted to the organization's website, photos from the event show the competition was certainly stiff. 
The contest officially dates back to 1990, according to the international group's history page. Every few years, the championships are organized in a different city in order to attract facial hair from all over the world. This year, the competition ranked the fuzz of some 300 contestants in three separate categories: full beards, partial beards and mustaches. 
Images from the World Beard and Moustache Championships reveal the great lengths some men go to to maintain their facial hair. Some, truly, create works of art.
The organization behind the beard and mustache competition is holding one in the United States this year. Titled the U.S. National Beard & Mustache Championships, it's being held in Brooklyn, New York, on Nov. 7.