Amtrak Train Derailment in Northfield, Vermont, Prompts Emergency Response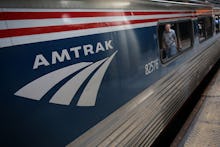 A train along the Vermonter, an Amtrak train line, derailed on Monday at around 10:30 a.m. EDT. The train reportedly jumped the tracks in Northfield, Vermont, located south of Burlington. Emergency responders immediately mobilized to the scene,  according to WPTZ. 
Two train cars descended an embankment near Montpelier, Vermont, officials told WPTZ. The southbound train was traveling from St. Albans, Vermont, to Washington, D.C.
Amtrak confirmed the derailment via Twitter. 
At least four people were injured in the derailment, according to CNBC. Lt. Dana Huoppi, a spokeswoman for the Montpelier Fire Department, said there were no reported deaths, NBC News reports. 
One passenger posted a photo to Instagram from inside a derailed car. In the comments section, he wrote, "Everyone in my car was fine that I know of."
In May, a fatal Amtrak crash outside Philadelphia killed eight people and injured at least 140 others. 
Oct. 5, 2015, 12:15 p.m.: This story has been updated.