Barbie Just Got a Killer Punk Makeover Courtesy of a Celebrity Makeup Artist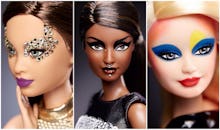 Badass Barbie has made her grand entrance.
To celebrate Paris Fashion Week, Mattel has teamed up with makeup artist Pat McGrath, whose clients include the Kardashians, for a line of Barbies with a bold new look. 
Debuted on Barbie's style Instagram Friday, the four new dolls showed an unexpected side to the 56-year-old brand with a high-fashion, punk aesthetic. 
Meet Punk Barbie. Inspired by McGrath's work during 2013's Punk: Chaos to Couture Met Gala, the Barbie comes outfitted with an on-trend septum ring, thick black flared eyeliner and a jeweled lip.
The second doll is inspired by McGrath's facework on model Jessica Stam for a cover of i-D magazine circa 2004. Girl's rocking a buzz cut, contour and primary-colored eyeshadow, which is clown-like but works on the little blonde lady. 
Of course, Barbie's gotta have some sparkle. This look is taken from McGrath's makeup efforts for Givenchy with real Swarovski crystals studded along the doll's lash line to mimic eyeliner, and plum lips. It's about as high fashion as an 11.5-inch plastic doll can get. 
And finally, our girl goes full glam. Inspired by McGrath's look for last fall's Atelier Versace show, the doll pairs blunt bangs with turquoise eyeshadow and a nude lip. It's the most runway-ready of them all.
But here's the bad news. There's no word yet on when these badass Barbies will be available to purchase. Much like the groundbreaking Zendaya Barbie, which premiered last week, we'll have to keep an eye on Barbie's social media for updates.
h/t Teen Vogue