7 Beautiful Photos Reveal the Daily Lives of LGBTQ Couples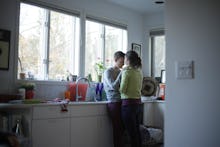 When the Supreme Court established same-sex marriage as legal nationwide in June, people across the country rejoiced, declaring "love wins." But just the ability to legally recognize their love doesn't necessarily equate to full social equality: Many LGBTQ couples still face stigma and fail to see their experiences reflected in the mainstream culture. It's an unfortunate reality photographer Grace Brown hopes to challenge with a project called Spectrum.
Moving toward normal. While queer individuals have been largely demonized in the media and broader culture alike for years, recent social and political progress has undeniably resulted in far more positive representations. But whether this visibility is actually progressive is disputable, Brown said. 
"I think there is this tendency to romanticize LGBTQ couples now that it's OK to be gay, and the romanticizing doesn't really help the cause either," Brown told Mic. "We aren't special — we're just normal."
Brown photographed several LGBTQ-identified couples in "real-life situations and scenarios" that represent the "nitty-gritty, everyday versions" of their lives together, Brown writes on the project's Tumblr.
It doesn't just get better. A crucial component of normalizing these couples' lives, Brown said, is particularly highlighting the authentic love LGBTQ couples share.
"I also really wanted to show people who were still struggling with their sexuality that there is hope beyond just being OK, that there is love and comfort and support in LGBTQ relationships just as there are in straight relationships," Brown told Mic.
This love is highlighted by captions featuring quotes from the subjects about their significant others.
"I came from a broken home, where love was rarely around," one subject, Daniel, said of his partner, Kyle; "but being around him and feeling how much he loves — not just me, but everything he does — makes me love and appreciate life so much more than I could have ever hoped. He just betters me as a person."
"I know a lot of people say that when you're in a dark tunnel, there is always a light of hope and that feeling you're going to get there," Pat said of her partner Corrin. "And when I met Corrin, I found that light."
"She both makes me more myself and more than I ever thought I could be," Kate said of her partner Anna (featured in the photo at the top of this article).
Ultimately, Brown said she hopes the series visualizes sentiments like these.
"At the end of the day, whatever label we are doesn't matter," she said. "In the quiet moments, it is just you and your significant other."