Hundreds March Against Slut-Shaming at First Amber Rose Slut Walk in Los Angeles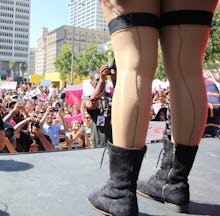 Amber Rose, the 31-year-old model and activist, dressed in black lingerie, held up a sign reading, "Strippers have feelings too," while leading hundreds at her inaugural slut walk through downtown Los Angeles on Saturday afternoon.
Some women came dressed in jeans and T-shirts, while others dressed in outfits much like Rose's. Others bared nearly everything, with only tape covering their nipples, protesting the idea that women are "asking for it" when they wear tight dresses or short skirts. This is the original intention behind the slut walk movement, which started four years ago in Toronto in response to a police officer who said women should avoid dressing promiscuously to avoid being victimized.
As they marched into Pershing Square, the crowd chanted in unison, "My pussy, my choice!" Rose introduced her mother to the crowd, who was met with cheers after raising a sign in the air that read, "Fuck Yo' 30 Showers," referring to ex-boyfriend Kanye West, who claimed he had to take 30 showers after they broke up.
While some came downtown to march in solidarity, others simply wanted to sneak a selfie with Rose as she led the group into the square, where Nicki Minaj and Beyoncé's "Feeling Myself" played loudly on the speakers.
En route to Pershing Square stood a "wall of no shame" covered in chalk messages that read, "I love sex," "Fuck catcalling" and "Live your true you," among other slogans.
Even during a clear and sunny 81-degree day, the hundreds of participants held their attention at Pershing Square where Rose held a fashion show, and a panel about feminism, reproductive justice and HIV/AIDS.
Rose made sure that everyone knew she was not personally profiting from the event: "the whore panties, every time you buy that, it goes back into the foundation, so we can have an annual slut walk." But she said she has big plans for this event. "Let's try to make it as big as Coachella!" she said. "This is our first year and look at the turnout; we're the number three trending topic in the world right now."