These Are the Surprising People Who Also Depend on Planned Parenthood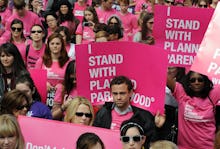 When Cazembe Jackson, a black transgender man, was a junior in college, he was raped by four men. When he went home for the summer, he realized he was pregnant.
"I knew there was a Planned Parenthood in the neighborhood," Jackson told Mic. "A lot of people really don't have access to safe and reliable health care and, especially as a queer black person, that was the reason I went there."
Many vocal political candidates and anti-choice advocates perpetuate the stereotype that Planned Parenthood only benefits straight women looking to have abortions (or sell their fetal tissue). In reality, Planned Parenthood provides a variety of general and sexual health-related services to more than 5 million men, women and children every year, who, like Jackson, have needs and seek services that extend far beyond this stereotype.
Here are just a few other groups of people who, though not typically associated with the organization, benefit from Planned Parenthood's services.
LGBTQ People
"I have definitely been to doctors who are not educated when it comes to trans people or really queer-identified people in general," Jackson told Mic, adding that other doctors "think I have the body of a female, but I actually have the body of a trans man" and fundamentally fail to understand the difference in treatment and examination this requires.
Because of a lack of sensitivity or knowledge from some doctors, many LGBTQ patients end up withholding information about their identity, which may prevent them from receiving adequate care.
Brooke Baxa first encountered Planned Parenthood through a youth conference, the first place they met "folks who were transgender that were living their authentic lives," who respected others' use of gender neutral pronouns and made sure the space was "completely inclusive." Baxa told Mic when they decided to undergo hormone therapy, which many Planned Parenthood locations offer, "there was no question for me to use Planned Parenthood for just the pure fact of the non-judgmental health care I knew I would be getting from them."
Lauren Shuler, a queer woman who lives in Nashville, Tennessee, told Mic she felt "nervous to come out" to doctors she's seen in the past. "I imagine that negatively impacts your care, when you're lying to your doctor by omission," she said.
Jackson, Baxa and Shuler are hardly alone: It's clear many medical schools fail to incorporate LGBT health issues and care into their curricula. Transgender individuals, for example, have been vocal about discrimination from health care providers. In fact, 28% of trans people postponed medical care to avoid anticipated discrimination in that environment and 19% were refused care because of their identity, according to a 2011 study.
Planned Parenthood's general preventative health services, however, are sensitive to transgender clients and some affiliates even offer hormone therapy for trans patients.
At Planned Parenthood, Baxa said, "I'm out, people respect my pronouns, they have gender neutral bathrooms there. It's a much more accepting place to go." Although Baxa acknowledges their hormone therapy treatment is a very specific service, they would still go to Planned Parenthood for general health care because "I know this is a place where my identity is going to be respected."
Jackson added the organization's sensitivity and care may even have saved his life.
"As queer and trans people, we already don't have places that offer competent health care for us," he said. "We need Planned Parenthood to be able to have somewhere to go that is safe for us."
Teens
When Kate Cartagena was 16, her boyfriend at the time insisted they have sex without condoms. Eventually, Cartagena told Mic, the situation felt like "too much." She felt "very scared and like I had no place to go," but knew she needed to access emergency contraception and seek birth control. She turned to Planned Parenthood. 
In addition to receiving birth control and sex education, she also recognized that the relationship that created the situation was unhealthy. 
"I didn't readily identify as someone who was in an emotionally abusive relationship," she said. But after visiting Planned Parenthood, where "every single person I spoke to, from the call center worker to the health advocate to the physician" asked her if she was OK, she realized that her boyfriend's demands "made me feel bad and may not be healthy for me and I needed to take control of my own body."
Beyond giving access to Planned Parenthood provides also teaches people about unhealthy relationships, body image, sexual orientation and other topics that don't get enough attention. But, in fact, Planned Parenthood teaches 1.6 million students sex education annually, President Cecile Richards said to the National Press Club. What's more, a 2014 study of Planned Parenthood's middle school sex education program found that the effort successfully delays sex for both male and female students by the end of 8th grade, Time reported. 
Schuler, who received comprehensive sex education through Planned Parenthood, and even became a peer educator in her southern high school, can attest to the power of this service firsthand. 
"The abstinence-only sex education I received in high school was really terrible. I remember leaving and feeling so awful," she told Mic. In addition to overlooking topics like healthy and LGBTQ relationships, she said birth control was hardly discussed.
Shuler eventually joined Planned Parenthood's national network of sexuality educators and "became a resource for my school, especially for the queer community at my school because none of us knew what was going on and our school could not help us everybody was so confused," she told Mic. And her peers were thankful.
"They were excited, they were really receptive and I didn't have any bad reactions from my peers," she said. "That's what we wanted and what we needed."
Senior Citizens
Senior citizens are living longer, healthier lives than any generation before them; and they're still knocking boots. 
"We have this misconception of people as they age, that they lose their sexuality," Joanne Alba, who oversees Planned Parenthood's SASSI program for older adults, told Mic. "The reality is that older adults continue to see themselves as vital and see themselves as still wanting to be in relationships, and that their sexuality is important to them."
It turns out, many older adults failed to receive comprehensive sex education in their adolescence. When some seniors find themselves single again for the first time in years, they are not always equipped with the information and resources to lead healthy sexual lives. 
"They may not think that they're susceptible to sexually transmitted infections," Alba said. "Women beyond childbearing age think they don't have to worry about pregnancy and may not use or think about protection."
This is one possible explanation for the rapid rise of STDs among this demographic: Between 2007 and 2011, for instance, chlamydia infections increased by 31% and syphilis by 52% among Americans 65 and older, according to a 2014 New York Times report. 
Even beyond health issues, however, Alba stressed that Planned Parenthood can be a resource for older adults to healthily consider and realize their sexuality.
"Sexuality is about who we are and how we feel in our bodies and it includes intimacy and it includes companionship," Alba said. "People still receive and give pleasure to another even as we age."
Men
"I went a year ago because, for me, condoms were getting really expensive," 25-year-old Jonny told Mic's Zak Cheney-Rice. "[The people at Planned Parenthood] bagged some up really nicely for us."
Ethan, 27, told Mic that he chose Planned Parenthood after his primary care doctor "and his male nurse made a series of homophobic and sexist and widely disparaging remarks about women and, after I came out to him, he pushed back on my need for a full STD panel."
Jonny and Ethan are hardly alone. Men aren't just welcome at Planned Parenthood, they're taking full advantage of it: Between 2003 and 2013, Planned Parenthood reported a 99% increase in male clients. While many go for the perhaps more obvious reasons, like obtaining contraception (which undoubtedly contributes to the 516,000 unintended pregnancies the organization estimates it helps prevent) and STD testing and treatment, the organization also provides a variety of services specifically intended for men, including colon, prostate, and testicular cancer screenings; vasectomies; education, exams, treatment and referrals related to erectile dysfunction; and male infertility screenings and referrals.
A nationwide resource: As discussions about defunding Planned Parenthood reverberate among politicians, therefore, it's crucial to remember that not only do the majority of Americans support the organization, but a vast number of people with unique experiences and needs tangibly benefit from it, too.