This Couple Started a Charity to Help People of All Ages Fulfill Their Bucket Lists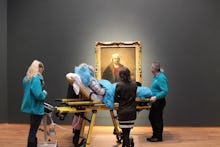 Everybody has an idea of which dreams they want to fulfill before they die, whether it's formally inscribed on a legal pad or simply a promise one's secretly made to oneself. At Stichting Ambulance Wens Nederland — or Ambulance Wish Foundation Netherlands — it is their mission to make terminally ill people's dreams come true.
Kees Veldboer, a retired ambulance driver, and his wife, nurse Ineke Veldboer, are the brains behind the operation, which came about almost by mistake. 
"In November 2006, I moved a patient from one hospital to another hospital and we had time to spare," Kees Veldboer told Mic. The hospital receiving the dying man, Mario Stefanutto, said there was a hold-up almost immediately after they'd transferred him to a stretcher and they couldn't receive him right away.
"The man was very ill and had not gone outside for a long time and did not want to go back," Veldboer recalled. So, when the ambulance driver asked Stefanutto what he would like to do, he said he wanted to go to Rotterdam harbor. 
"We stayed there for an hour and it was a beautiful, sunny day. And he told me he had sailed for many years and being there brought him so much joy, and we asked him if we would like to go sailing again." Stefanutto said he would love to, but was unable to, given he was bedbound. 
Veldboer immediately began arranging for Stefanutto to go on a boat while still on a gurney. "I saw him laughing [on the boat]. He was ill, he was going to die, but he was laughing. It meant a lot for him and then I got the idea to start this foundation. I saw it was very important for him to have his last wish come true."
Since then, the Dutch charity has helped fulfill almost 7,000 wishes, Veldboer said. The foundation operates entirely on donations. Often those whose wishes have been fulfilled ask for donations from loved ones when they die, in lieu of flowers, for example, Veldboer explained, which has helped enormously. He and his wife work on the foundation seven days a week. 
Wishes have ranged from one patient visiting a favorite Rembrandt painting one last time to another going to the beach with her dog, like she did when she was healthy. "We can't make them better but we can give so much to them. We can help them a lot and that's what we do. That's what's important in my eyes," the former ambulance driver shared. 
Veldboer said, no matter the challenges, they go to great lengths to fulfill last wishes. One woman confined to her bed wanted to see the snow atop an Austrian mountain. "We went up [the mountain] with the stretcher and we put her in the middle of the snow. She wouldn't believe we would make it happen and she had tears streaming from her eyes."
The oldest patient they've worked with is 102 years old, whose wish was to ride a horse once more. Veldboer described gently lifting her onto a horse with a team of people. She rode for a few meters and was then placed in a horse-drawn carriage. 
The youngest patient they've helped was an 8-month-old baby, who had never been home and whose parents wanted to spend the day there with her. There was a lot of medical equipment attached to the baby, which made the transfer difficult, but they found a way to successfully move her home for a day. 
"We hope to start in the USA and we have had a lot of reactions from there." Furthermore, from Oct. 20-21, Veldboer will travel to the United Kingdom to give a presentation to 50 volunteers in the hopes of opening a U.K. branch, too. They already operate in Belgium, Sweden, Germany and Israel.
"I hope this foundation, in a couple years, is all over the world."
"The most important thing is to give and not to take," Veldboer said of the message he wanted people to get from their story. "When you give a lot, you get so much back. I have nothing money[-wise], but I have everything. My life changed a lot [after starting the foundation] and I'm a rich man now. I have not a lot of money, but I am rich. Everyday I can make people happy."