Meryl Streep's 'Suffragette' Shirt on 'Time Out' Cover Is Pissing People Off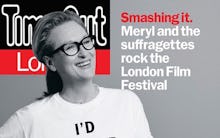 Actress Meryl Streep has long been a vocal supporter of equality: She has taken on the underrepresentation of women in the entertainment industry for years, advocated for the Equal Rights Amendment and portrayed numerous powerful women on screen. Her latest project has her playing feminist pioneer Emmeline Pankhurst in the upcoming film Suffragette. Ironically, though, Streep may have undermined this very mission in a recent interview for this very role. 
The Sept. 29 issue of Time Out London features Streep and her co-stars wearing T-shirts emblazoned with Pankhurst's famous quote, "I'd rather be a rebel than a slave." While Carey Mulligan, Romola Garai and Anne-Marie Duff also also appear wearing the shirt, Streep — who appears alone on the cover and rejected the term "feminism" in favor of "humanism" in the accompanying Time Out interview — is facing the bulk of criticism. 
Plenty have expressed their disappointment on Twitter. 
Considering that the suffragette movement was one undeniably dominated by white women — many of whom made blatantly racist statements and sought to exclude women of color — the valorization of this phrase seems careless.
Still, some have interpreted the shirt differently and are coming to Streep's defense.
While Streep has yet to comment on her choice to wear the shirt, hopefully she will use the opportunity to start a conversation about why many are offended — and use future press opportunities surrounding the film to do better.