Adele's New Album '25' May Be Released in November. Here's Everything We Know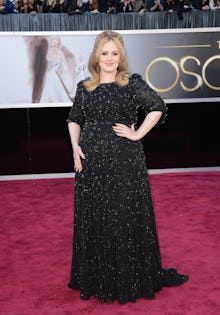 British singer and songwriter Adele, who first had us swooning with her soulful "Chasing Pavements" in 2008, have a release date for her third album, 25, on Nov. 20, Music Times reports. However, neither Adele nor her label have confirmed the date. 
Fans can expect a single to drop within the first two weeks of November, according to the report. Here's what we know about 25's album release date, guest artists and what's next for the 27-year-old singer. 
25 release date: It's been a long four years for those who have waited for new music from the 10-time Grammy-winning vocalist since her 2011 sophomore album, 21. That record features several hits, including the sultry heartbreak ballad "Someone Like You," and sold more than 30 million copies worldwide.
Adele teased the album name in May 2014 and promised its release later in the year. However, her record label later said that timeline wasn't realistic, Billboard reports. 
Guest artists and producers: Hints about guest artists and collaborations have been circulating, though nothing has been confirmed. Other details, including tracklist and lyrics, are still unknown. Rumor has it that OneRepublic frontman Ryan Tedder will be featured on the album. Tedder produced and co-wrote the popular "Rumour Has It."
Music producer and songwriter Max Martin, who's produced hit music for the likes of the Backstreet Boys and Britney Spears, is also expected to collaborate on the album, the Independent reports, along with producer Danger Mouse, who has recently worked with the Black Keys and ASAP Rocky, Billboard reports.
Though Adele can boast standout album sales for 21, there are some concerns that her record may be overshadowed by Now! 92, the 92nd installment of the 32-year-running hit music compilation, which is set to drop on Nov. 20, according to the Independent. 
In July, "Photograph" singer Ed Sheeran told the U.K.'s Capital FM that although he hadn't yet heard Adele's new album, "Everyone I know who've worked on it is just like, 'Dude... that record!' Apparently, it's really good."