American Airlines Pilot Dies Mid-Flight, Co-Pilot Diverts Aircraft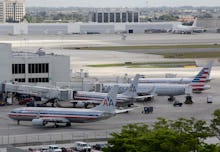 An American Airlines pilot died mid-flight during a Sunday redeye from Phoenix to Boston, the airline confirmed to WSTM. The flight's co-pilot diverted the jet to Syracuse, New York, and landed the aircraft at 7 a.m. EDT, the according to the airline. There were 147 passengers and five crew members on board. 
According to officials, the pilot, who has not been named, became ill mid-flight. It was unclear at first whether the pilot had died while the plane was in the air or after it had landed. ABC reported someone on the plane told ground control that the pilot was "incapacitated" and "unresponsive."
Syracuse Police Department Lt. Eric Carr confirmed there didn't appear to be anything suspicious about the pilot's death, WSTM reports. The pilot was unresponsive by the time the plane touched down. The results of a formal autopsy are still pending. 
"We are incredibly saddened by this event, and we are focused on caring for our pilot's family and colleagues," American Airlines spokesman Andrew J. Christie Jr. said in a statement to WSTM. 
The raw audio of the co-pilot's distress call can be heard via WBZ.