'Cosmopolitan' calls Kardashians "America's First Family," and Twitter Loses It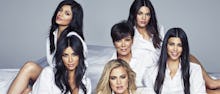 "America's first family." Most people who hear that reference would likely immediately think of U.S. President Barack Obama, first lady Michelle Obama and their daughters, Natasha and Malia.
However, Cosmopolitan recently bestowed the title on another high-profile family, placing it in big, bold letters in front of the Kardashian-Jenner women on the cover of its November issue, unveiled Monday alongside other attention-grabbing headlines like "Easiest workout for an epic ass!" and "Decode his crazy mind tricks."
The move had the Internet immediately up in arms. Twitter users were quick to school Cosmopolitan on who the real first family of the U.S. actually is, voicing their frustrations with the magazine's latest issue:
Each of the stars from the reality TV family took to social media to promote the photoshoot and magazine. "So excited to be on the November cover with my family!" Kim Kardashian West tweeted Monday morning. Khloe Kardashian also shared news of the cover via social media, saying, "Get your first look here and pick it up next week!"
This isn't the first time Cosmopolitan has faced a controversy this year. After the magazine published an article comparing beauty trends in black models versus white models that many viewers said portrayed black models in a negative light, Cosmopolitan was forced to issue an apology, Huffington Post reports.