These Hideous Loafers Represent Everything That's Wrong With the Fashion Industry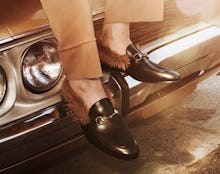 Every few months or so, there is a new "shoe of the season." Usually, the choice for fall is something like a unisex loafer or a tasteful Chelsea boot. But this year, we're stuck with something that looks like if a Lhasa Apso was run over by a New York taxi cab.
It is with a heavy heart that I must introduce you to the horror that is the $995 kangaroo fur-lined Gucci slipper. Already singled out by Vogue as fall's "It Shoe," they are, objectively, everything that is wrong with the fashion world today. 
We've got a lot to cover for this one, so let's start with how they look:
Vogue describes the shoes as being "part shaggy slipper, part preppy loafer," which is probably the most flattering thing you can say about them. 
To endorse them further, the glossy magazine writes: "The eye-catching nature of the shoe means you don't have to try too hard from the ankle up (though you might want to show it off with some cropped trousers, either of the flared or frayed variety)." OK, sure, but the lack of aesthetic appeal and stunning price still has us completely baffled. 
The shoes aren't just ugly — they're also controversial. Although the fashion elite, like street style emperor Bryanboy and designer Marc Jacobs (see above), have publicly embraced the shoe, there's still a larger question here regarding the fur being used. 
In August, Quartz reported that several of the new Gucci accessories were lined with wild kangaroo fur, which sparked a conversation about the relatively uncommon use of wild fur on the runway. Gucci's loafers use fur from kangaroos that lived in the wild, as opposed to fur from animals that were specifically bred for that purpose. 
A spokeswoman for Kering, the luxury company that owns Gucci, immediately rushed to defend the use of wild fur, insisting to Quartz that it's actually environmentally friendly. "Kangaroo harvest is one of the best examples of a well-managed harvest program, and thus can be classified under our guidelines as a sustainable fur," she told Quartz.
However, there is also the opinion that the hunting of kangaroos is unethical, regardless of the circumstances under which it takes place. 
"Kangaroos in particular are highly social creatures," Daniel Ramp, the director of the Center for Compassionate Conservation at the University of Technology in Sydney, told Quartz. "They're a wild animal, and they need to be left alone."
Whether you support fur in fashion or not, the fact that the shoes are ethically questionable further taints their appeal for anyone who could be considering dishing out nearly $1,000 for them.
Who is buying these? In addition to being controversial, the fur also makes us wonder how someone could actually wear these. Walking anywhere outside for more than five minutes would surely ruin them. Are they just for the fabulous to wear on red carpets? For those who are too luxe to step onto a public sidewalk? Can a shoe really cost $995 if you can't even walk outside in them? 
To answer the first question, of market: more people than you think. The New York Post is reporting that the shoe is actually flying off the shelves, with one salesman in Gucci's Madison Avenue store in New York City insisting that it's the most popular footwear they've had in years.
Ironically, people are buying the shoes precisely because of how impractical and inappropriate they are. "It's this season's statement shoe that screams luxe in a new way, much like Céline's fur Birkenstocks a few seasons ago," Yahoo Style's editor-in-chief Joe Zee told the New York Post. 
"Fashion people love something that is a new take on something familiar. Like Céline's fur Birks [which retailed for $785], this fur and horse-bit loafer does the same. It's a classic, timeless item given a new luxe spin."
The comfortable ugly shoe complex: In Gucci's defense, there is a chance that these shoes are so outrageously comfy that they'd be worth the $995. Everyone's excuse for wearing the often-mocked Uggs or Crocs is that they are just so unbelievably comfortable. But what separates Uggs and Crocs from this Gucci Frankenstein shoe is the exorbitant cost: $995 is a pretty steep price to pay for the questionable luxury of having your feet wrapped in a kangaroo fur coat.
All things considered, this shoe is the fashion industry incarnate. It is ridiculous. It is nonsensical. People love it because of how outrageous and impractical and expensive it is, not in spite of that. So, if you're simply just too bored with your wardrobe and have an extra $995 or so laying around, we're certainly not going to stop you from buying these shoes. But also keep in mind that we're absolutely going to judge you for it.