Watch Hundreds of Angry Air France Employees Rip the Shirts Off Their Executives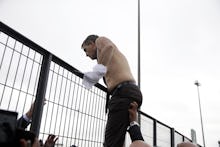 The protesters involved would probably call it direct action. But Air France leadership calls it a crime.
The Guardian reports Air France executives want to press charges against some of the 100-plus striking employees that stormed a meeting of senior staff, ripping the clothes off members of management believed responsible for the airline's plan to lay off 2,900 staff.
The protesters, according to the paper's account, stormed the company's main office, entered a meeting where the layoffs were being discussed, and proceeded to run the executives out.
Photos captured Pierre Plissonnier, the company's director of long-haul flights, climbing a fence to escape the crowd with his suit torn to shreds around him.
A similar fate befell Xavier Broseta, the company's head of human resources, whose suit jacket, shirt and tie were all ripped to shreds.
The two executives were seen leaving the premises under police protection.
French transportation secretary Alain Vidalies called the incident "unacceptable and must be punished," according to the Associated Press.
Reuters additionally reported one security guard was knocked out and another injured during the protest, while "violent protests like Monday's are not unusual in France, where the population has a long tradition of taking the law into its own hands." The phenomenon of "boss-napping" is not unique to France, but has seen a resurgence in recent years as angry workers fed up with corporate austerity measures protest staff cutbacks.
The full video is available here: