Patti Smith's Quirky 'M Train' Captures How to Stay Graceful in the Face of Grief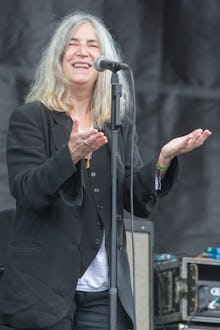 In Patti Smith's new book, M Train, the singer-songwriter speaks as eloquently about Law and Order as she does about The Master and Margarita. She mourns the cancelation of the show The Killing as she might mourn the loss of a loved one, and worries about fictional New York Police Detective Lennie Briscoe's alcoholism as she might a close friend's. 
This is but a snapshot of the breadth of Smith's new book. Each meditation rings with the same lyricism as Just Kids, which almost the entire world read (it did spend 42 weeks on best-seller lists), relishing the '70s New York nostalgia and joys of lost youth.
"Has Putin read it?" Smith joked during a recent master class Mic attended at the Hearst Tower, when host David Granger, editor-in-chief of Esquire, made that claim. When asked what she would hope Putin would take from the book, Smith said, "I would like him to be more compassionate to young kids in his country."
M Train makes that same appeal to compassion, but in a very different way. It's not nearly as dramatic as Just Kids, as some critics have complained. Because of this, M Train likely won't make the same impact — but what it lacks in rock star drama, it makes up for in insight.
Smith has survived many brilliant friends, and has found a curious sort of understanding in her grief. Writing this book, she's taken what might be the boldest step a punk icon can: Painting a portrait of herself as a wise, beautifully sentimental cat lady. Somehow, by the end of her mediations, she seems even more formidable.
Smith is not just a kid anymore. Funny enough, in focusing her attention away from her young life and instead to the TV-filled world of grey years, Smith has gained a new sense of freedom.
"I had a strong agenda with Just Kids," Smith told the small audience at Hearst Tower. "I had so much responsibility [because] Robert Mapplethorpe asked me to write it the day before he died. It was about a time long past. Many of the people in the book are dead ... I had to be responsible to the city, to Robert, to all these people, to the chronology. For this book, I just wanted to be free."
That freedom is apparent at all levels of the book's construction. It imbues her meditations on death with a mystic sense of wholeness. The way narrative weaves in and out of present and past, dream and reality, offers a view of death as a slowing, curious obstacle to memory. It's nothing that can't be overcome with time and an open mind.
"I believe in life, which one day each of us shall lose," Smith writes in M Train. "When we are young we think we won't, that we are different. As a child I thought I would never grow up, as if I could will it so. And then I realized quite recently I had crossed some line, unconsciously cloaked in the truth of my chronology. How did we get so damn old?"
Death was tragic in Just Kids — impossible, even. In M Train, it's simply one part of the great emotional breadth of life.
"It's not so easy writing about nothing." Second to death, the only things Smith devotes nearly as much attention attention to in M Train are her cats and her coffee. The randomness of M Train's spread can make it appear that the book is "about nothing," as Smith insists in the opening lines and in a constant refrain throughout the book. 
Yet it's the way Smith explores "nothing" that makes M Train such a triumph. She establishes a tone balanced between the philosopher contemplating the void and a casual "nothing much, you?" type of sentiment. It makes death seem approachable and tame — something any reader could do well to realize, as we're all slowly approaching the end.
"For everything bad, there's a million really exciting things," Smith recently told NPR, "whether it's someone puts out a really great book, there's a new movie, there's a new detective, the sky is unbelievably golden or you have the best cup of coffee you ever had in your life."
M Train captures all these joys with a beautifully subdued palette, amounting to a playful and powerful statement about how to survive with grace. Not every reader will get the opportunity to build twilit years as sublime as Smith's. For those that do, M Train can serve as a travel guide.