Here's What Happened When a Black Man Sat Next to 2 White Supremacists on an Airplane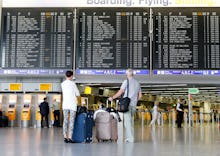 It started like the beginning of a bad joke. "A black man and a white supremacist sit next to each other on an airplane..." But this actually happened to David Barthwell during his two-hour Lufthansa airlines flight in September, he told Mic.
Barthwell, 33, is a self-employed graphic designer and web developer based in Oakland, California. On Sept. 20, he was boarding flight LH1157 from Ibiza, the island off the coast of Spain where he had just attended a friend's bachelor party. He was en route to Frankfurt, Germany, where he'd planned to stay the night. 
Barthwell, who is black, said he was boarding his plane when he noticed four or five white men wearing leather jackets, bandanas and insignia suggesting they were affiliated with the Hell's Angels motorcycle gang. "It was one of those things I just noted," Barthwell told Mic. "I boarded the plane before they did."
After he sat down in his aisle seat, Barthwell realized two of the men were assigned to his row. "The one seated next to me was clearly intoxicated," Barthwell said. "He actually tried to climb over me to get to his seat before I even had the chance to move."
What happened next is detailed in a long post Barthwell wrote on Lufthansa's official Facebook page and in multiple online correspondences he has exchanged with the airline's customer service department in the weeks since. "It was easily the worst experience I've ever had on a flight," he told Mic.
A recap: According to Barthwell, shortly after the flight was airborne, the two men sitting next to him started discussing what "needed to be done about the world's black and brown people." In his Facebook post, Barthwell wrote the men talked about "[uniting] the white race" and "[initiating] a global race war."
"I surmised that they had just attended some sort of meeting," Barthwell told Mic, "and that they had been discussing things like the protests out of Ferguson, [Missouri], and the immigration situation in Europe. One said that the protests were 'ruining America,' and that Europe needed to 'unite' against the people coming to their borders."
Put simply, Barthwell said, "It made me feel unsafe."
The dilemma: As soon as the seatbelt sign went off, Barthwell said he stood and quietly approached a flight attendant near the rear of the plane, who in turn directed him to another flight attendant near the front. Barthwell explained his predicament to the second flight attendant and asked that he be allowed to switch seats, since there were multiple empty seats on the plane.
The flight attendant's response surprised him. "The first thing he said was that he did not have the authority to upgrade me to a higher seating class," Barthwell said. "Which I had never asked for. I never asked to be moved to first class or anything like that." As a second suggestion, the flight attendant offered to move Barthwell to another seat — one in front of the seat he was originally sitting in.
This, too, presented a problem. Unappeased by the prospect of now sitting with his back to the two white men, Barthwell suggested that he move to an empty spot he saw near the back of the plane. "The flight attendant told me that a woman had placed her jacket on that seat, but that if I still insisted on moving, we could ask her," Barthwell said. "I had to go with him. It really felt like I had to hold his hand through the entire process."
Barthwell eventually got his new seat. But he remained taken aback by how hard he had to work to get it. "This is clearly not the worst thing that's ever happened to someone on an airplane," he added. "But the responses from the flight attendants were incredibly off-putting. ... They seemed to be implying that I was concocting a story to scam my way into first class. It never felt like they were taking my concerns seriously."
Background: Airplane safety has become a global priority since the Sept. 11, 2001, terrorist attacks allowed for heightened security measures including mandatory shoe checks and the presence of armed federal air marshals on U.S.-based flights.
Muslim travelers have especially endured certain indignities over the years when flying. In May, a United Airlines flight attendant allegedly refused to serve Muslim passenger Tahera Ahmad a sealed can of Diet Coke because of concerns that she might "use it as a weapon." 
In March French officials said Germanwings co-pilot Andreas Lubitz was able to lock the pilot out of the cockpit and deliberately crash his plane into a mountainside in France, killing all 150 people on board due to a security measure established after Sept. 11 allowing pilots to lock cockpit doors from the inside.
These examples are part of why David Barthwell finds his Lufthansa experience so curious. "I don't want to suggest a unique lack of sensitivity here," he said. "But this was an interesting, maybe even telling response to issues of safety in regard to the race of the people involved. If these white supremacists had been Muslims discussing violent actions against Christian Germany, for instance, there may have been a more enthusiastic response [from the crew]."
And quite possibly, from the airline as well: "When we caught up in the airport, [Dave] was pretty pissed," Steve Huffman, a friend of Barthwell's who was on the same flight but was seated in first class, told Mic via email. "I went to find my bags, and [Dave] went to complain at LH customer service." Thus began Barthwell's administrative runaround, which continues today.
After de-planing in Frankfurt, Barthwell went to the nearest Lufthansa customer service desk. He said a representative told him they could not help him there, but gave him a link to submit an online complaint. He did so that evening at the airport hotel.
"The next day I returned to the airport and went to every Lufthansa lounge, customer service desk, handicap services desk — everything," Barthwell said. "I spent about two hours there. And everyone said the same thing: that no one there could help me."
"When I asked if I could expect to hear anything else about the matter, she said the same thing: that she could not tell me anything more, due to privacy concerns."
Negative experiences with airlines are universal, but Barthwell's seems unique, both in how it played out in the air and in its administrative follow-up. To clarify whether Lufthansa's methods were standard procedure, Mic spoke with Sara Nelson, international president at the Association of Flight Attendants, one of the largest flight attendant unions in the world. 
Nelson said she could not comment specifically on this incident. But she did explain that flight attendants are explicitly trained to de-escalate this type of situation, and that procedures for identifying the level and legitimacy of the threat might move at a slower pace than passengers are happy with. "I can see how that might be read as dismissive or pandering to the person perceived as the threat," Nelson said. "But what is missing from most airlines is a consistent policy for follow-up: reporting to the crew, to ground control and for following up after."
At this point, an exasperated Barthwell took to Facebook. The post he wrote on Sept. 21 has been shared 108 times as of Tuesday afternoon and drew an almost immediate response from the Lufthansa social media team. "I am really sorry to hear that you have had such an unpleasant experience while traveling with us," the response read. "The safety and well-being of our passengers is of utmost importance, and we do not advocate or tolerate discrimination of any kind."
They concluded with a familiar refrain: "I would like to send your feedback to our Customer Relations Team for further investigation." Barthwell followed the link they provided, which was the same he had used before. Nine days later, he still hadn't received a response, he said. He responded to his original complaint on Facebook on Oct. 1; later that day, he received a phone call from a Lufthansa customer service representative.
"She apologized," Barthwell said, "and said that this was the fault of the Frankfurt flight crew, and that they were going to discuss it internally. Then she said she couldn't tell me anything more due to privacy concerns. When I asked if I could expect to hear anything else about the matter, she said the same thing: that she could not tell me anything more, due to privacy concerns."
At one point in the conversation, he said the woman also asked Barthwell (in what he interpreted was a sarcastic tone), "What do you expect, a letter?" The short answer is, yes. He does.
"At this point, if I could ask for anything — look, I don't want to profit from this experience," Barthwell said. "I don't want a refund or free miles or anything like that. I do want a letter of apology, acknowledging that this incident occurred, instead of just more, 'I cannot say any more due to privacy concerns.' And I'd like some sort of public statement [from Lufthansa] that says, 'We take our customer safety seriously — no matter what the racial background of the persons involved.'"
So far, Barthwell said he has received nothing: no follow-up response, no formal apology, nothing. He sees what he's left with as more than a lapse in customer service — it's an example of the most basic request people enduring the wages of racism have: to see the bigotry they live with each day acknowledged by those who enable it.
Barthwell said he remains troubled that he had to wheel and deal in order to be moved away from the two white supremacists discussing acts of violence against people of color seated next to him on a flight. "At no point in the process did I feel that anyone at Lufthansa actually cared," Barthwell said. 
Lufthansa did not respond to Mic's multiple requests for comment as of Tuesday.