This Homecoming Queen Set a Beautiful Example for How to Treat Someone With Down Syndrome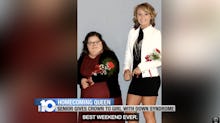 As we all learned from Mean Girls, high school can be an ugly place.
But it was all smiles at Ohio's Caldwell High, where the school's newly elected homecoming queen, Laken Figel, declined the honor and passed her crown to one of her best friends — who has Down syndrome — Jenna Porter. 
"Jenna has been a true blessing [during] this class," Laken's mother, Amy Figel, told WTRF. "She has given her classmates eyes to see the importance of the gift of compassion toward those who are a bit different from the 'norm,' and a whole lot of joy and smiles through the years." 
The younger Figel became queen by receiving the winning red rose among her fellow members of the Cadwell High court. She told local media that she wanted her friend to experience the joys of being homecoming queen. Figel added that she was personally not interested in any recognition.
It's not the first indication that high school in the United States has gradually become a less horrible place. In May, a Pennsylvania football player made headlines after asking another girl with Down syndrome to his senior prom. Local prom and homecoming queens with Down syndrome have been elected across the U.S., from Illinois to Texas to Pennsylvania.  
"I feel really special," Jenna Porter, Caldwell High's new monarch, told WTRF.