Cheerios and Honey Nut Cheerios Recall: Here's How to Find Out if Yours Were Affected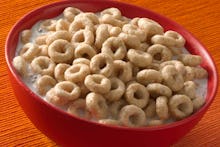 General Mills has recalled both Cheerios and Honey Nut Cheerios that claim to be gluten-free but aren't.
The recall is of almost 2 million boxes of the cereal that were made in July in its Lodi, California, factory, according to the company's press release. General Mills warns "potential adverse health effects" for people with Celiac disease or gluten intolerance.
The recall involved wheat flour being accidentally integrated with oat flour at the Lodi facility. The recall involves four days of Cheerios production and 13 days of Honey Nut Cheerios. 
If your box of Cheerios reads "Better if used by" with dates from July 14 through July 17, 2016, it's part of the recall. If your box of Honey Nut Cheerios reads the same for July 12 through July 25, 2016, save July 19, it's affected by the recall as well. 
General Mills is "embarrassed and sorry" about the incident and urges those with gluten allergies not to consume any affected cereal and to contact the company for a replacement or full refund at the number provided in the release.
Gluten-free Cheerios hit the shelves in July, including the original Cheerios, Honey Nut, MultiGrain, Apple Cinnamon and Frosted. This "simple change" was implemented to ensure gluten-free consumers can "enjoy their favorite kind of Cheerios again" and also to allow General Mills to meet the FDA's strict gluten-free guidelines. General Mills' Lucky Charms cereal went gluten-free shortly after, though marshmallows were already gluten-free.
"This is exciting news for the cereal category, probably the biggest news since our commitment to whole grain in every box," Jim Murphy, president of the Big G cereal division, said at the time. "We know there are many consumers — as much as 30 percent in the U.S. — who avoid gluten. And, people are looking for more gluten-free options for cereal so it's important that we make these five varieties of gluten-free Cheerios available."