Misty Copeland Explains Her Mission to Make Ballet More Diverse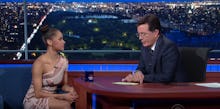 Misty Copeland doesn't take the distinction of being the first black ballerina named principal dancer by the American Ballet Theatre lightly. The performer, who overcame racist backlash and other obstacles to achieve such success, considers her position a personal career highlight and an opportunity to create broader change, a responsibility she talked about Monday night on The Late Show with Stephen Colbert.
"I've always felt very comfortable, and it's felt very organic, for me to speak about race because I understand the importance of bringing more diversity to classical ballet," Copeland said. "It's never felt to me like a burden or anything I was putting on."
While Copeland is often praised as a role model, she noted that she also views her advantageous position as an opportunity to honor those who came before her and elevate those who follow in her footsteps. She told Colbert an internal voice advised her "to get out to represent so many people who have come before me." 
A Ballerina's Tale, the upcoming documentary about Copeland's journey "is so much a part of sharing the history of African-American ballerinas who have come before me, who are younger than me that are coming up," she said. 
In addition to serving as an advisory board member and mentor for the American Ballet Theatre's Project Plié, an initiative to diversify ballet, Copeland has persistently spoken out about the experiences of dancers of color. 
"It's easy for someone who isn't black or other or who has never experienced racism to dismiss what I'm saying," the Huffington Post reported Copeland told Essence for its September issue. "It's easier for them to say, 'Why do you focus so much on that? You're a beautiful dancer.' But the reason I'm here and I have this voice is because I'm black."
She also told Time earlier this year that, "it's important for me to set an example of what a healthy image is, what a ballerina can be — that she doesn't have to be a white woman that's rail-thin." 
Ultimately, Copeland said on The Late Show, it's this mission that drives her forward. She aims "not just to be a ballerina," she said, but "to be that voice and to make change in the classical ballet world."