'Life and Death: Twilight Reimagined' Plot Details and How to Get Latest 'Twilight' Book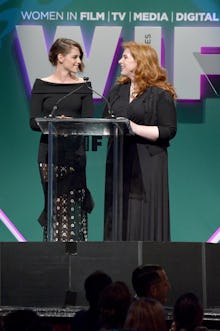 Bestselling author Stephenie Meyer is putting her imagination to good use for the 10th anniversary of her popular fantasy saga Twilight. Tuesday commemorates a decade of vampire lore, and to celebrate, Meyer has penned a 442-page rework of Twilight that flips the script. In the new volume, Life and Death: Twilight Reimagined, released Tuesday, Meyers genderswaps her main characters. Cue Twihard fans flying off the handle. 
That includes Perez Hilton:
In the forward to the surprise bonus book, Meyer explains that her decision to reverse gender roles was, in part, to prove Bella isn't a "damsel in distress," Entertainment Weekly reports.
The gender reversal was also meant to debunk the idea that Bella's character is "too consumed with her love interest, as if that's somehow just a girl thing," Meyer writes.
In the role reversal, main character Bella Swan becomes Beaufort (Beau for short). Edward Cullen, lead vampire and lamenter extraordinary, becomes Edythe in the reimagining. 
Meyer appeared on Good Morning America Tuesday Morning to discuss the book. She's also scheduled to appear for an interview Tuesday afternoon on NPR's "All Things Considered." To celebrate Twilight's 10th anniversary, Meyers will be touring in New York and Los Angeles. Events and signings start Tuesday and run through Wednesday, Oct. 14. Head here to see her scheduled events. 
Barnes and Noble's Upper West Side store is one surefire bet for fans in New York City to get their paws on a copy on Tuesday, as Meyer will be onsite for a book signing at 3 p.m. Eastern. For West Coast fans, copies of the book will be available during a signing at Barnes and Noble's the Grove store in Los Angeles on Monday.