What's Your True Sexual Orientation? The Purple-Red Scale Is Here to Help You Find Out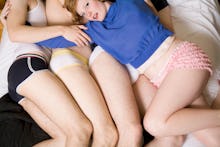 When reality TV dumpling Honey Boo Boo Child declared that "everybody's a little bit gay" three years ago, she was unknowingly taking a page out of sexologist Alfred Kinsey's book. His famous Kinsey scale, which identifies people's levels of same- or opposite-sex attraction with a number from zero to six (zero being exclusively straight, six being exclusively gay), has been a favorite cultural metric for measuring sexual orientation since it was created in 1948. 
But even though asking someone where they fall on the Kinsey scale is now a common dating website opener, the Kinsey scale is far from an all-inclusive system. As Southern California man Langdon Parks recently realized, the scale fails to address other aspects of human sexuality, such as whether or not we even care about getting laid in the first place. 
So Parks decided to develop a more comprehensive alternative: the Purple-Red Scale of Attraction, which he recently posted on /r/Asexuality. Like the Kinsey scale, the Purple-Red scale allows you to assign a number from zero to six to your level of same-sex or heterosexual attraction, but it also lets you label how you experience that attraction on a scale of A to F. A represents asexuality, or a total lack of interest in sex "besides friendship and/or aesthetic attraction," while F represents hypersexuality.
Pick your letter-number combo below:
Parks told Mic that he came up with the idea for the Purple-Red scale after learning about asexuality and realizing that he was a "heteroromantic asexual, or a B0 on the scale" — someone who is interested exclusively in romantic, nonsexual relationships with the opposite sex. 
"I then thought, not only are there sexual and asexual people, [but] there are different kinds of sexual people as well," he said. "I thought of adding a second dimension to Kinsey's scale to represent different levels of attraction." (As for the color scheme, Parks opted for purple because of its designation as the official color of asexuality, while "'red-blooded' is a term often used to describe someone who is hypersexual.)
The scale represents all possible degrees of sexual attraction, from those who only want to have sex when they're in a relationship to those who are ready and rarin' to go pretty much whenever. For instance, if we use Sex and the City as an example, Carrie would likely be an E1, while the more prudish Charlotte is probably more of a D0 and uptight Miranda an E0. Our beloved bisexual, sex-crazed Samantha? Totally an F2.
Busting myths about sexual attraction: Back in 1978, Dr. Fritz Klein tried to update the scale to make it more inclusive of a wider range of sexual experiences, as well as sexual fantasies. His final product, the Klein Sexual Orientation Grid, came out a bit clunky, however, and was still based on the assumption that everyone using it was capable of experiencing sexual attraction in the first place. 
Parks' Purple-Red Scale accounts for those who experience sexual attraction at different times in different contexts, as well as those who don't experience it at all. That's notable in part because although asexuality is not exactly rare — according to one estimate, approximately 1 in 100 people are asexual, though they might not self-identify as such — it's one of the most widely misunderstood sexual orientations, with many people assuming that asexuals are just closeted gay people or too socially awkward to have sex. 
But asexuality is a legitimate sexual orientation with many unique shades of its own. As the Huffington Post reported back in 2013, many asexual people don't just identify as asexual. For instance, they can also self-identify as "heteroromantic" (meaning they're interested in having exclusively romantic, nonsexual relationships with members of the opposite sex) or "demisexual" (meaning they're open to experiencing sexual attraction within the context of a strong emotional connection or committed relationship).
"Some people don't want to have sex in a relationship at all, and others view it as the whole point of the relationship," Parks told Mic. "Yet others typically start off having no feelings but build them up over time. Still others don't want sex for themselves, but are still willing to have it for other reasons," such as to procreate or make their partner happy. 
That's why Parks' Purple-Red scale is so important: It acknowledges the shades of grey in sexual orientation and sexual interest. Both, he explained, are fluid and largely dependent on context. 
Why do we need scales in the first place? While the Purple-Red scale is helpful in classifying sexual attraction, some people might argue that we don't need a cut-and-dry system for classifying our sexuality in the first place. If the burgeoning "label-free" movement of sexual fluidity is any indication, coming up with clinical labels like "E2" or "B0" might be purposeless or even counterproductive to achieving true sexual freedom.
But Parks believes that having a simple tool like the Purple-Red Attraction Scale can be useful, particularly as a way to improve communication in the dating world. "The scale was designed to provide a quick and easy way of scoring a person's view of relationships on forums and dating sites," he said. Imagine, for instance, if you logged onto OkCupid and entered your sexual orientation as D5, instead of simply self-identifying as "gay," "straight" or "bisexual." 
Parks also noted that the Purple-Red scale is a great way to match partners who have similar or compatible sex drives. "Attraction type is every bit as important as orientation," he told Mic. "We see it all the time: John wants sex, sex, sex, while Jane doesn't have the feeling right away."
Because discrepancies in sex drive can cause problems in same-sex and opposite-sex relationships, Parks wants people to use the scale as a way to establish sexual compatibility right off the bat. 
"Instead of relying on assumptions like 'Oh, he's a guy, go for it!' or 'She's a woman, wait for it,' people can now use their letters to describe their basic outlook on relationships," he said. 
"Attraction type is every bit as important as orientation."
Perhaps one day, we'll live in a world where we don't need something like the Purple-Red scale to tell us about our own sexuality; a world where we don't need to fit who we want to have sex with into boxes or spectrums or scales. But for the time being, whether you're a B2 or an F5 or a D6, it's cool that we have something like Parks' scale to help us answer the nagging questions about sexual orientation that our culture keeps asking us to answer — and maybe it can help us find out a little bit more about ourselves. 
h/t GayStarNews