Amputee Brian Taylor Urruela and Model Rebekah Marine Posed for an Empowering Photo Shoot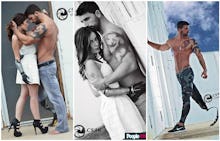 In a series of photographs released exclusively by People, model Rebekah Marine, who was born without a right forearm, and amputee Iraq war veteran Brian Taylor Urruela, posed together in an effort to, according to Marine, empower "people who may not see the brighter side of the cards they were dealt." 
"I was born without an arm and [he] lost his leg so we both have different reasons for limb-loss," Marine, 28, who calls herself the "bionic model," told People. "It's really cool for our paths to cross and come together to create these strong photos and empowering photos." 
The images, taken by Steve Woods of Csaw Studios showing the two meeting for the first time, actively challenge the way society views people with disabilities: Urruela is depicted topless and ruggedly handsome, and Marine wears a flowing, feminine white dress. 
"It's really about opening up the dialogue about disabilities, it's to stop hiding the disability," Urruela, 29, told People. "It's to stop being ashamed of it and to own it, and I think that's what Rebekah and I both do."
Fashion and prosthetics: Marine is an ambassador for the Lucky Fin Project, which helps people with upper limb differences, and Touch Bionics, the makers of her own prosthetic. She most recently walked in the FTL Moda show during New York Fashion Week; Urruela has taken up modeling as well, posing for several romance novel covers. 
Their work in fashion speaks to the industry's increasing representation of people with disabilities, with designers displaying a particular interest in the field of prosthetics. As Mic previously reported, designers and artists are banding together to create 3D-printed and custom works of art that can cover a prosthetic, which will have the power to shift the conversation from "What happened to you?" to "Wow, where did you get that?" 
By doing the photo shoot, Marine and Urruela aim to help normalize people with limb loss and prove that people with disabilities can live full lives regardless of their physical limitations. 
"I had to go from being a 21-year-old who could do anything to a 29-year-old now missing a limb and a beat-up leg, so for us I think it's about the empowerment aspect of it," Urruela said. "It's about the fact that, you know, yes we're different. Yes, this is something that makes me different from you, but I'm still human." 
h/t People