"Pour Up": Lyrics and Streaming Options for Lil Wayne's Newest Track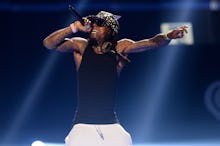 In his newest track, "Pour Up," released Saturday, New Orleans rapper Lil Wayne is far from discreet about his history of drug use. Specifically, Lil Wayne raps about his proclivity for combining soda and codeine to make "sizzurp," sometimes called "purple drank," a dangerous cough syrup cocktail that some people use to get high. 
"Went in the kitchen and grab me a pop," raps Lil Wayne, whose real name is Dwayne Michael Carter Jr. "Got my codeine and I poured up a lot/ I pour up a lot." Here are the track's full lyrics. 
"Pour Up" was released on DJ Raj Smoove's new mixtape, The Greatest DJ in the World, most likely due to Lil Wayne's "confusing label situation," Hot New Hip Hop reports. Lil Wayne recently filed a lawsuit against music mogul Birdman and Cash Money, the parent company of Lil Wayne's label Young Money, which produces music for Drake, Nicki Minaj and Tyga. In the lawsuit, Lil Wayne claims that Young Money should have gotten a chunk of a $100 million advance that went straight to Cash Money, TMZ reports.
A dangerous history: After Lil Wayne's dangerous history with codeine, there's some confusion as to why the rapper is still spitting lyrics about sizzurp. In 2013, he was hospitalized after he had a seizure reportedly linked to his use of the drug cocktail, the Los Angeles Times reported. 
"Most of Wayne's recent music has shied away from rampant drug references, specifically codeine," Hot New Hip Hop noted, speculating that "Pour Up" could be a couple of years old. 
Lil Wayne told MTV News in 2008 that quitting the drug "feels like death in your stomach when you stop," adding that "everybody wants me to stop all this and all that. It ain't that easy.'' In a 2009 interview with Katie Couric, Wayne claimed that he's "not addicted" to syrup anymore, but wouldn't say he'd stopped using it. 
"Pour Up" exudes the vibe of getting high on codeine, which is supposed to feel hazy and sleepy.
The track is available streaming on the music distribution website AudioMack for now.