There's a Reason to Get Psyched for H&M's New Collection, and His Name's Olivier Rousteing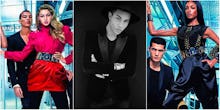 H&M cycles through designer collaborations at whirlwind speed, and the constant restocking of shelves can make it hard to keep track of the new collaborations, much less keep  enthusiasm going.
The latest H&M "designer collaboration" is with the French label Balmain, and it's got the makings to generate heat ahead of its November 5 launch: The clothes are flashy, the spokesmodels are famous (hello, Kendall Jenner) and the edgy ads are staged in subways.
But the real reason even non-Balmain fans can get excited is the designer behind the line: Olivier Rousteing, the creative director for Balmain, is one of the rare designers of color heading a top fashion label — and he's a vocal champion of diversity in an industry that doesn't have nearly enough of it.
A commitment to diversity: Rousteing's vision for Balmain entails providing luxe clothing to a woman who is an all-around badass. The women who wear his clothes form part of the "Balmain army" or "nation." For the H&M campaign, he created the hashtag #HMBalmanation, as in "join the nation, he told Vogue.
The key selection criteria to join the Balmain nation isn't having a certain look, but an attitude. In a profile of the designer in the New Yorker, Rousteing points toward Balmain clothes hanging on a rack and explains his ideal customer.
"This girl, as we can see, is really confident," he told the magazine. "She's Asian, she's black, she's Russian, she's European, she's American — all the women of the world are part of our Balmain army!"
A look at the Balmain ad campaigns reveals a diverse set of models with varying skin tones and ethnicities. Rousteing has often cast other black celebrities to walk on runways or star in ads. For a special editorial photo shoot for the fashion magazine W, Rousteing selected three iconic black celebrities and models: Rihanna, Naomi Campbell and Iman, three women he described as embodying his brand vision.
"These women are inspiring to so many different people," Rousteing told W. "Bringing them together represents the concept I'm working toward." 
A unique point of view: This inclusive attitude and mindset is in direct contrast to how Rousteing was treated as a young boy. Children called him a "bastard," child, pointing out the differences between how he looked and how his parents did, Rousteing wrote for CNN Style in September.
"I was a young black child, they were a white couple — they were pushing boundaries when they chose me," he wrote. "I think that's a beautiful act of love." (He later found out that he'd been adopted.)
"I realized that I was different when I was around 11 years old. And I think from this moment, I say, 'I'm going to fight for diversity,'" Rousteing says in an accompanying video on CNN. 
He's maintained that fight in an industry in which he's still "different." As a black designer heading a top label, Rousteing represents a minority in the fashion world. It's an unfortunate rarity, as writer Robin Givhan pointed out in the Daily Beast when Rousteing was first appointed to the position of head designer.
"References to African and African-diaspora culture have found their place on the runways and in various high-end collections, such as those from Jean Paul Gaultier and Hermés," Givhan wrote. "But that same kind of black and brown diversity has not been as common among the lead designers of France's most venerable brands. In that respect, Rousteing is a novelty."
The fashion industry is notorious for showcasing little diversity on its runways and elsewhere. According to an analysis done by the Fashion Spot that examined the models in 373 runway shows, 80% of the models cast were white. In France, the fashion industry can be even less diverse; Casting director Julia Samersova told E! News, "I think Paris and Milan are still embarrassingly behind the times. A designer in Europe might go five, six seasons without putting one woman of color on the runway."
"That an old couture house has hired a black man as creative director is a huge deal — and a sign that the rarefied world of French fashion is changing, for the better," Raquel Laneri wrote of Rousteing at Forbes.
That change has been slow, but visible. H&M hasn't always been at the forefront, but the store's latest campaign might be its most diverse yet, with a video including Sikh style bloggers and a photo spread with a hijab-wearing model.
Bringing glamorous inclusivity to a wider audience: The price tag on a typical Balmain dress can reach into the thousands, essentially pricing out the masses. It's a problem that Rousteing is very much aware of, and all the more reason he's excited about the new H&M collaboration.
"When you work for a superluxury brand, you don't have so many stores, your vision isn't the entire world," Rousteing told Vogue. "With H&M, you know you're part of the world, you touch all the continents. I've always been loud about being about diversity and the world. So it's perfect."
To help achieve his goals, Rousteing has aptly deployed the tool available to most millennials: social media. He was one of the first designers from a top luxury house to create an Instagram account, something that caused some concern among the company's executives, who worried about him showing off his bum too much in photos, according to Out magazine.
But that Instagram, with its over 1 million followers and counting, is spreading the word, thanks to It models and celebrities like Kendall Jenner and the Kardashian family, not to mention regular old fashion fans who are learning about the man behind the brand.
"I feel with H&M, I'm going to have the chance to actually see more people wearing my clothes, and my vision more in the street," Rousteing told Vogue. "Because Balmain does not have the ability to have so many stores, with H&M I get the chance to express the diversity I'm always expressing, about ages, about races, continents."