Kanye West Blames Backlash to Yeezy 350s on Race: Critics Are "Racist and Discriminatory"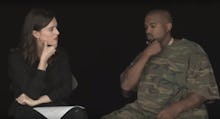 Kanye West might be on top of the world right now, but that doesn't mean he won't pause to take on his critics. The artist sat down for a live stream interview with fashion-film house ShowStudio to discuss the backlash that has followed some of his most recent work, including the unveiling of his Adidas Yeezy Boost 350 sneaker model at New York Fashion Week in September.
"Anyone that's criticizing most likely saw the 350s and acted like they didn't like them because they're racist and discriminatory," West said in an interview Tuesday morning when discussing criticism of the rapper-cum-fashion designer's sneaker line. West has been teasing the new Adidas Yeezy Boost 350s, which sold out in 12 minutes after a limited released for retail online in June. 
"They're not only racist against black people, they discriminate against celebrities, people with multiple art forms," West told ShowStudio. "The highest art form is actually fashion."
After unveiling the second season of his clothing line at New York Fashion Week in September and showing off sneak peeks of the line of sneakers, West faced harsh criticism from some of the biggest names in the fashion industry. 
"This second round of drab, broken-down basics proved he can't be taken seriously as a designer," respected fashion critic Cathy Horyn wrote for New York magazine after attending the presentation. When asked if he was using the military-themed unveiling of his Yeezy Season 2 line as a political statement, West told ShowStudio: 
"I think it's racist when white people assume that when a black person uses color it's a political statement. I wasn't making a political statement. It was a painting, it was a beautiful color. People say this a political statement ... That statement is not gonna stop the murders in Chicago. That statement is not gonna help people get jobs. That statement is not gonna get guns out of hands in Atlanta."
The Huffington Post reports Maxwell Osborne, a co-designer for Public School, was possibly the only other major black fashion designer presenting at the 2015 NYFW other than West. 
This isn't the first time West has publicly addressed his naysayers. The 38-year-old famously penned an open letter to New York Fashion Week creator Fern Mallis via Twitter after she said she wasn't a fan of the artist's designs, according to Us Magazine.
"To Fern Mallis: I just want you to understand that attempting to do clothing has been very difficult," West wrote on Twitter in February. "And I have encountered countless amounts of bigotry along the way."
The full ShowStudio interview is streaming via YouTube. Check it out below: