Will Smith Is Recording a New Album For 2016: Here's Everything We Know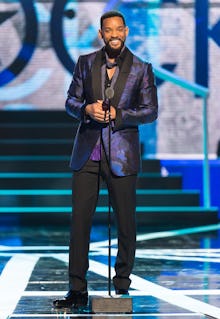 It's been 10 years since Will Smith was in the music scene — that is, it was until the Oscar-nominated actor unexpectedly rapped with Bomba Estéreo on a remix of "Fiesta" last week. As it turns out, that appearance wasn't just a tease. From release date to tracks and his world tour, here's what we can tell you about Will Smith's next album.
Speaking to Beats 1 DJ Zane Lowe on Monday, Smith confirmed he's ready to once again hit play on music-making in a meaningful way. According to their talking points, fans can expect a new album and a world tour on the horizon.
In the Beats 1 interview, Smith explained that his sabbatical from musicianship had a lot to do with more pressing priorities (read: raising a family).
However, after such a long pause, a fair amount of apprehension has also kept the Fresh Prince away from the mic. "When you've had a certain amount of success, it seems like it should breed confidence," Smith told Lowe. "But it actually doesn't. When you win a lot, you lose the ability to lose. You're not allowed to lose anymore."
"You actually lose the ability to create," he added. "The reckless abandon — and it's something I'm actually getting back from watching my kids, they really don't care — that kind of reckless abandon and that lack of fear."
Reckless abandon in hand, Smith is tackling a comeback with full force and has been honing new material to follow 2005's Lost and Found, the hip-hop artist's fourth and most recent studio album. Here's everything we know about Smith's musical road map. 
Release info: Smith has yet to set a precise release date for his next album, though during the interview with Lowe the actor/musician all but confirmed a tour next summer with DJ Jazzy Jeff. If true, the tour would come 13 years after Smith and Jazzy collaborated on their final record, Code Red, and nearly 30 years after their hit album He's the DJ, I'm the Rapper went triple platinum, according to Time. 
"I'm pretty certain I'm going on tour," Smith told Lowe. "Jeff and I actually never have done a full tour. I was always on the Fresh Prince of Bel-Air, I was always either making a movie, so we've never actually done a full tour. So I'm looking this summer to be the first time that we go out on a full world tour."
Material: Ten years is a long time to log some killer tracks, and Smith told Lowe he's recently been in the studio on a daily basis to perfect the material for his forthcoming record. Smith has about 30 tracks recorded to date, including a core six or seven which he "really, really" likes. 
For a deep dive into Smith's musical agenda, and a glimpse at the musician's thought process, watch the full Beats 1 interview below: