When Is Flu Season 2015? Months, What to Expect and Where to Get Flu Shots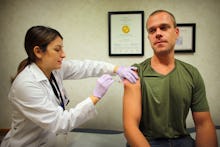 Health officials are gearing up for flu season 2015. Coming off a particularly rough season last year, flu experts are vamping up their efforts to get people vaccinated; health administrators expect to give some 171 million doses of flu vaccines this season, the Associated Press reports.  
Flu outbreaks in the United States will start as early as October and peak between December and February, the Centers for Disease Control and Prevention predicts, adding that flu season trends vary from year to year. "Flu seasons are unpredictable in a number of ways," according to the CDC. "While flu spreads every year, the timing, severity and length of the season varies from one year to another."
Last season was a "bad year for the flu," CDC director Tom Frieden told the Associated Press in September. The vaccine was only 13% effective against last year's unusual strain of the virus, down from its usual 50-60% effectiveness. 
Hospital visits for influenza-like illness peaked in late December during the 2014-2015 season, with 146 reported deaths, according to the CDC. More than 200,000 people are hospitalized for flu-related illness each year. 
The Center for Disease Control claims this year's vaccine will be more effective than last year and urges everyone to get one. "It doesn't matter which flu vaccine you get, just get one,"  Frieden told the Associated Press. 
What to expect: The flu outbreak should start in October and pick up in November. The past three years of flu season data shows that the peak of flu season happens during the final couple of weeks during the year. 
The CDC statistics show just how unpredictable flu season is, though. Anywhere between 5% and 20% of the U.S. population catches the flu each year. Between 1976 and 2006, estimates of flu-associated deaths in the U.S. range from a low of 3,000 to a high of 49,000. 
How to avoid the flu: First and foremost, the CDC recommends getting a flu vaccine by October of each year for anyone 6 months of age and older. This ensures that as many people as possible are protected against the virus before the season begins. 
This season, four methods of vaccination are available, including a nasal spray for those afraid of shots.
About 79% of employers with high-deductible health insurance plans offer employees free flu shots, while 67% of employers with traditional health insurance plans offer workers free vaccination, Reuters reports. The shot costs $32 to $40 for those paying out-of-pocket, the Associated Press reports.
The vaccine should be repeated annually because new strains of influenza appear each year and immunity from provided by the vaccine fades. 
Contrary to some beliefs, the form of flu virus used in the vaccine is too weak to cause the flu. Though a myth exists that the flu shot can cause miscarriages, NPR reports that the influenza can lead to miscarriages and the vaccine reduces the risk of a miscarriage. 
Other preventative methods include the basics, hand-washing and staying away from sick people.
For people who already have the flu: Flu symptoms will include a fever and may also include a cough, chills, stuffy nose, sore throat, body aches, fatigue, sometimes accompanied by diarrhea and vomiting. The CDC noted that while stomach symptoms are often referred to as the "stomach flu," influenza is a respiratory disease, not an intestinal disease.
Most people with the flu have mild enough cases that do not warrant drug treatment, the CDC stated. In these cases, staying home from work or school and letting the illness run its course is the best option. Over the counter medications such as anti-inflammatories and fever reducers can ease flu symptoms but won't make flu sufferers less contagious.
The U.S. Department of Health and Human Services recommends getting a lot of rest, drinking clear fluids and gargling with salt water, among other things.
For more severe cases, the illness is treated with antiviral prescription drugs. This season, three FDA-approved influenza antiviral drugs are recommended for use in the United States: oseltamivir, zanamivir and peramivir, the CDC reports. A list of emergency treatments is available here.
Such methods of treatment are recommended for those with serious flu complications — either infants, senior citizens, pregnant women or those who are hospitalized. Studies prove the effectiveness of these drugs in preventing life-threatening symptoms, according to the CDC, and are most effective when used within 48 hours of contracting the flu.