LGBTQ TV Shows: Presenting the Gay-to-Queer Television Matrix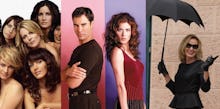 Impact
By
Kevin O'Keeffe & Manuel Betancourt
We are in a Golden Age for LGBTQ TV. There's Transparent and Orange Is the New Black on streaming services. There's American Horror Story and Faking It on cable. There's even Empire and How to Get Away With Murder on network television. Each of these shows features queer characters, gender and sexual fluidity and more.
There is, however, a difference in art between being gay and being queer — and none of these shows is wholly one or the other. The terms are not synonymous, though they're often used as such. In order to more intelligently talk about these shows, we should ask: What makes a show gay, queer or both? Here to answer that question is the Gay-to-Queer Television Matrix.
The definition: We're deciding whether a show is "gay" or "queer" not based on how its characters identify, but by its total scope and historical context. "Gay" shows are much more invested in categorization and convention. Their LGBTQ characters are often wholly positive role models, with emphasis on normality.
Likewise, for a show to be queer, it should include fluid sexuality, daring content and ambiguity when it comes to identity. The queer parts of a series aren't likely to be hoisted up by the mainstream — though they may break down the barrier and allow such attributes to become the norm. Compare the first gay kiss on Dawson's Creek to the safer sexuality of Modern Family, for instance.
Neither gay nor queer is definitively a "better" quality. Some of the best shows on this list have aspects of both. They are, however, disparate categories. In a time when showrunners are becoming increasingly ambitious with LGBTQ themes, using the correct vocabulary to distinguish them is incredibly valuable — even necessary.
The methodology: The authors of the matrix settled on gay and queer scores for each show individually, on a scale from 1 to 10. Our scores were then averaged together. Here's what we came up with:
Ally McBeal (1997-2002) While a heterosexual love triangle was at the heart of this David E. Kelley lawyer series, the buzzy show made waves for having a gender-mixed bathroom; featuring Lisa Edelstein as a transgender woman for a multi-episode arc; and even including drag queen Dame Edna Everage in its last season.
American Horror Story (2011-present) While each is different in tone, all seasons of Ryan Murphy's horror anthology series have pushed the boundaries with characters and plots that query issues of gender and sexual diversity; think of the anxiety over sexual desire in Murder House and Asylum, or the valorization of marginality and difference in Coven and Freakshow. Bonus: the many LGBT characters that populate the show.
Archer (2010-present) This animated spoof of spy flicks, complete with a drunken, womanizing man of mystery, is known to showcase the wildly diverse sexual proclivities of its supporting cast (Ray's flamboyant gayness, Cheryl's sadism-and-masochism fantasies, Krieger's penchant for tentacle porn), all the while casting a loving homoerotic gaze on Archer's own toned (and usually half-naked) body.
Batman (1966-1968) This show engendered a straight up parody (Saturday Night Live's "The Ambiguously Gay Duo"), so it probably goes without saying how queer Adam West's classic Batman is, but let us list some things anyway: the over-the-top villains (including Eartha Kitt as Catwoman), the homoerotic subtext, the poptastic outfits and, of course, its campy humor.
Beverly Hills 90210 (1990-2000) Created by Darren Starr (of later Sex and the City fame), the show follows twins Brenda and Brandon Walsh after their move to that famed California zip code. A '90s hit, the show tackled gay rights issues through its run — most notably in the 1994 episode "Blind Spot," which deals with an outed fraternity brother.
Bewitched (1964-1972) That a paean to heterosexual domesticity has become a queer touchstone is a testament to Elizabeth Montgomery's charms (as well as her later public crusade as a gay activist alongside her co-star Dick Sargent, who came out in 1991). Bonus: Endora as a walking drag queen and the show's witch-as-Other metaphor.
Bob's Burgers (2011-present) The Fox hit upends the formula of the animated family sitcom not only by having most of its female cast be voiced by men, but also by crafting in Tina, a sexually curious teenager obsessed with boys' butts. Throw in Gene, a young boy with a fluid sense of sexuality, and you've got a pair of truly groundbreaking role models for girls and boys alike.
Brothers and Sisters (2006-2011) There's nothing particularly challenging about Brothers and Sisters. It's a family drama that aired alongside the far wilder Desperate Housewives for years on ABC. Yet the show did feature Matthew Rhys as one of the titular brothers, Kevin, who had a tempestuous relationship with — and eventually married — Scotty Wandell (Luke Macfarlane).
Buffy the Vampire Slayer (1997-2003) By featuring a long-running lesbian couple, plenty of vampire/human pairings that functioned as metaphors for illicit affairs and storylines that centered on the volatility of sexual desire, Joss Whedon was able to craft a show that gently pushed back against the gender norms and sexual mores of the late 1990s.
Cagney and Lacey (1981-1988) The show about two strong-willed female police detectives actually recast Christine Cagney in its second season after the original actress's features were deemed "not feminine enough" and making the partners seem like lesbians. Sharon Gless was brought on board, and yet that still didn't stop these feminist cops from becoming lesbian icons.
Charlie's Angels (1976-1981) The show that made Farrah Fawcett a star really pushed "girl power" way before that motto was used to describe its Drew Barrymore-produced film adaptations. Beyond these feminist undertones, viewers have long seen a blossoming romance between Sabrina and Kelly.
Dawson's Creek (1998-2003) Things weren't always so hetero on the Creek. A fairly tame teen show in 2015 terms, Dawson's Creek broke its fair share of teen dramedy ground. Most significantly, it featured TV's first "passionate" gay kiss. Since it was so palatable for family audiences, however, it still felt fairly milquetoast.
Designing Women (1986-1993) Gay men know Designing Women for shoulder pads, Dixie Carter and "the night the lights went out in Georgia." The monologue-filled sitcom is a camp classic, but it did its part to challenge negative stereotypes of gay men as well. One particular episode, which featured a client with AIDS, included a barn-burning speech about what living with the disease really means.
Desperate Housewives (2004-2012) Welcome to Wisteria Lane, where mothers and wives live very different lives behind closed doors. The series featured a few gay characters (including one gay teen, son of Marcia Cross' Bree Van De Kamp), but they never received much focus. Its emphasis on complicated women and how they interact with those gay characters, however, was quite fascinating.
Difficult People (2015-present) Unafraid to center itself on two not very nice people (one of whom is a gay comic played by shouting man extraordinaire Billy Eichner), Hulu's comedy plays like a snarky version of Will and Grace. Said version is unafraid to indulge in a vision of gay men who worry about Emmy Rossum and go shopping with their bosses in the middle of the day — but it never makes them the butt of the joke.
Dollhouse (2009-2010) Joss Whedon's much maligned cult sci-fi series is premised on the danger of thinking of identity as anything other than a malleable performance. The very concept of the dolls-for-hire (whose personalities can be programmed to the highest-bidder's desire) is as icky as it is provocative, and of course, a wholly queer approach to identity.
Downton Abbey (2010-present) Despite its flirtations with the love that dare not speak its name in early twentieth-century England (most famously in a season-one storyline featuring footman Thomas and the Duke of Crowborough), Julian Fellowes' series seems beholden to a traditional style of storytelling that consigns its treatment of gender and sexuality as parochial, only intermittently questioning its effects on the Crowley family.
Dynasty (1981-1989) The late night soap that defined a generation featured one of the first gay characters on television, Steven Carrington. Recast by the second season (the first actor worried about the character's shifting sexuality), Steven was the moral conscience of the show; his All-American looks and prominence in the '80s drama made him an early LGBT role model.
Ellen (1994-1998) Groundbreaking in its heyday ("The Puppy Episode," where DeGeneres's character came out, remains a touchstone of LGBT media representation), this thoroughly '90s sitcom is also an example of the way gay characters have been boxed into heteronormative storylines that treat sexuality as an almost-negligible character trait unworthy of exploration. Past the groundbreaking outing episode, the show was unable to really craft a world around a lesbian protagonist.
Empire (2015-present) Boundary-pushing in so many ways, Empire boasts a gay man of color among its lead characters — Jussie Smollet as Jamal Lyon — who isn't cast as a helpless victim, but rather is just as manipulative as the rest of his family. The season two addition of Mimi Whiteman (Marisa Tomei) as a thirsty lesbian billionaire has been particularly delicious. Still, the show is fascinated by labels: Only Cookie (Taraji P. Henson) and Anika (Grace Gealey) show any sort of fluidity.
Faking It (2014-present) How has this cynical little teen dramedy gotten three seasons? Thank goodness it has; it's one of the most radically queer shows on TV, wrapped up in an inoffensive MTV package. Not many series can boast lesbian, gay, queer, questioning and intersex characters — and that's just among the regulars. It's hard to believe it all started with two girls faking gay.
Frasier (1993-2004) This Seattle-based Cheers spinoff focuses on urbane psychiatrist Frasier Crane and his equally fussy brother (played by out gay actor David Hyde Pierce). Interested in style, wine and other cosmopolitan interests, there's no denying the Crane brothers read as gay in some quarters even though much of the show revolved around their heterosexual affairs.
Friday Night Lights (2006-2011) Clear eyes, full hearts, can't find a gay character? Friday Night Lights was a critically beloved, commercially disastrous show for five seasons, yet it never got a major gay storyline off the ground. Still, the series' deep male friendships — plus, it must be said, the delightful Connie Britton as Tami Taylor — gave the series some LGBTQ-friendly texture.
Game of Thrones (2011-present) Everyone's favorite fantasy show may court controversy over its depiction of sexual violence, but the wide-ranging visions and versions of desire and sexuality (Loras Tyrell's gay trysts, Oberyn Martell's bisexuality, Lord Varys' asexuality), not to mention its penchant for Skinemax-style sex scenes, make it queerer than you'd think.
Gilmore Girls (2000-2007) Sure, the Gilmore girls had boyfriends to argue over, but the female friendships for its leads — Lorelai with Sookie, Rory with Lane and Paris — came first. It's little wonder fans revisiting or discovering the series on Netflix treasured those relationships in particular. One thing about the WB series that doesn't hold up at all: What's with the terrible, stereotypical gay jokes?
Girlfriends (2000-2008) UPN's long-running sitcom centered on a group of African-American women was praised for its portrayal of female friendships. The character of Lynn Ann Searcy was not only the more sexually adventurous girl in the group (proposing marriage to a woman she hardly knew in a later season premiere) but she also produced a documentary on the HIV/AIDS pandemic, focusing on black women.
Girls (2012-present) Lena Dunham's lightning-rod HBO show has been praised for its frank depiction of non-normative sexual acts (included a much-talked about rimming scene in its most recent season), issues it continues to push with its portrayal of bitchy gay best friend Elijah (Andrew Rannells), and Hannah's own father, who came out just this past season.
Glee (2009-2015) Glee was a great many things for six seasons on Fox: inconsistent, disheveled, momentarily magical. But most of all, it was very gay. Early on in the series, this was mostly presented in the form of cis white men: Chris Colfer's Kurt and Darren Criss' Blaine, for example. Credit creator Ryan Murphy for pushing beyond that later, however, with a same-sex couple featuring a Latina lesbian and white bisexual, plus a trans girl of color named Unique (Alex Newell). When a show's final season includes a joint gay wedding, props must be given.
Golden Girls (1985-1992) Thirty years after its premiere, the Miami-set sitcom about four middle-aged women continues to hit a chord with gay audiences: not only did it feature a gay cook in its pilot episode, but prominent guest-star storylines included Blanche's brother coming out as gay and Dorothy's lesbian college friend.
Gossip Girl (2007-2012) You know you love the WB's silliest, wildest series about spoiled rich kids. The strangest thing about Gossip Girl is how exclusive to its time period it feels. At a time when diversity and representation are TV's biggest trends, a series that revels in privilege the way Gossip Girl did would be soundly rejected. Credit the show for dipping its toe into queer waters, however, not only with a gay character (Connor Paolo's Eric Van Der Woodsen) but with the devious, heteroflexible Chuck Bass (Ed Westwick).
Grace and Frankie (2015-present) This Netflix show's central premise is classic sitcom: two longtime couples divorce after both grooms admit to having loved one another for over 20 years, forcing their wives to move in together. The entire plot, which has the gay couple planning their wedding and finally owning their homosexuality, depends on many stereotypes that nevertheless present a tender vision of homonormativity.
Greek (2007-2011) Calvin Owens (Paul James) isn't the typical gay TV character. As both a person of color and a fraternity member with broish tendencies, Clive was a subversion of stereotype at a crucial moment for the LGBTQ rights movement. The show wasn't particularly queer, but Calvin did join a line of characters who likely helped to change American TV viewers' minds about gays.
Grey's Anatomy (2005-present) Shonda Rhimes has built an entire television empire on her commitment to racial and sexual diversity on screen. Her banner series is no exception, most notably with the character of Callie Torres (Sara Ramirez) who started as a love interest for T.R. Knight's George O'Malley only to later emerge as a complex bisexual character.
Halt and Catch Fire (2014-present) This AMC show about the personal computer revolution in the early 80s has a bisexual character as its lead: Joe MacMillan, portrayed by Lee Pace. His sexual fluidity is no mere character trait, but a central aspect of his characterization, affecting crucial plot lines and intersecting with the early onset of the AIDS epidemic.
Hannibal (2013-2015) The homoerotic tension between famed cannibal Hannibal Lecter and FBI agent Will Graham is not just palpable; it actually pulsates in every frame of Bryan Fuller's hypnotic adaptation of the iconic Red Dragon characters. The show works like a dreamscape, making every pierced limb and gush of blood double for more sexually overt images, disassembling in its wake any certainty in Law, sanity or even identity.
Happily Divorced (2011-2013) Trust Fran Drescher to turn her real-life divorce from Peter Marc Jacobson into one of TV Land's first scripted series. Following classic sitcom logic, the show has Fran live with her ex-husband after he comes out of the closet, taking their very close relationship into a new territory as Peter finds himself anew.
Happy Endings (2011-2013) Max (Adam Pally), a gay slob whose character was as informed by his gayness as by his slobbiness, was a delightful part of ABC's underrated sitcom. The entire idea of a "straight gay" is almost inherently anti-queer, presenting gayness without much edge. Yet at the time Happy Endings debuted, Max was quite unusual.
House of Cards (2013-present) Though there have been some decidedly queer-tinged moments in House of Cards' three seasons — mostly involving Frank Underwood (Kevin Spacey) getting too close with a same-sex-attracted employee — the show ultimately rejects actually going anywhere with its gay moments. That's a shame; Netflix's first breakout series has queer promise it fails to fulfill.
How to Get Away With Murder (2014-present) This series bumped up a few points on the queer spectrum after its second series premiere, in which viewers meet Annalise Keating (Viola Davis)'s ex, Eve (Famke Janssen). To have a network show with a queer main character — one of color, at that — is incredibly rare. Throw in a mixed-race gay couple that openly talks about living with HIV and PrEP, and the result is one of TV's most progressive series.
I Dream of Jeannie (1965-1970) While ultimately promoting a rather unfortunate, if then contemporary, gendered relationship (the woman is at the service of her man), there's no denying that there's a subversiveness to Jeannie's magical powers, which upended some of the more cringe-worthy sexism on the show. Bonus: The actor who portrayed Major Nelson's commander, Dr. Bellows, was gay.
Kingdom (2014-present) Between Kingdom and Scream Queens, Nick Jonas is reinventing himself as the straight actor who plays queer. It's done quite a bit more subtly on the DirecTV drama series, with Jonas' MMA fighter character Nate slowly revealing himself to be — but not accepting himself as being — interested in men.
Kyle XY (2006-2009) While Kyle himself, actor Matt Dallas, didn't come out as gay until long after this ABC Family series was over, the sci-fi show itself was remarkably LGBTQ-friendly for its time. For example, when an episode all about queer high school students garnered controversy, the network stood by the episode, a hint at its future queer-friendly reputation.
Laverne and Shirley (1976-1983) This Happy Days spin-off centered on two roommates who work together at a brewery in Milwaukee. Laverne and Shirley (as well as upstairs neighbors Lenny and Squiggy) were explicitly straight within the show's narrative, but many have seen something else in these close homosocial pairings (stoked in particular by a kiss shared by the title pair in the show's third season opener).
Looking (2014-2015) Alas, poor Looking. Not queer enough for the queer audience, not gay enough for the gay audience. It's a shame such a lovely, quiet HBO series about gay friends in San Francisco had to air in such a divisive time. What might one day be hailed as quiet, subtle brilliance that really tried to respond to critics while telling ambitious stories was shut down as "boring."
Masters of Sex (2013-present) How queer or gay Masters of Sex is in any given moment is based on one thing: Is Annaleigh Ashford's Betty DiMello on screen? The queer prostitute who gets involved with Dr. William Masters and Virginia Johnson's work is the show's true highlight. There are other gay stories, but Betty's characterization shines.
Melrose Place (1992-1999) Aaron Spelling's other late night soap drama was a never ending set of escalating scandals and revelations designed to titillate viewers. While that meant plenty of racy sexual trysts within the straight cast of characters, openly gay social worker Matt Fielding (played by Doug Savant) had plenty of off-screen relationships. His prominent storylines centered instead on gay discrimination and one of the first HIV-focused arcs in prime time.
Modern Family (2009-present) No show on this list better illustrates the difference between gay and queer. As a show that puts a third of its narrative on a gay couple, flamboyant characteristics and all, Modern Family is incredibly gay. Mitch and Cam feel like Will and Grace redux, however, and a decade too late. It's hardly queer at all.
Mr. Robot (2015-present) A very spicy gay story in the third episode of USA's Mr. Robot raised eyebrows. For the rest of the series, however, all the shots of male characters standing awfully close to one another was probably even queerer.
Murder, She Wrote (1984-1996) Unquestionably a gay icon by the time she starred in this long-running CBS series, Dame Angela Lansbury brought the fabulousness with which she'd wowed Broadway musical audiences to the character of Jessica Fletcher. Episodes like "Birds of a Feather," set in San Francisco featuring a "female impersonator"; Fletcher's fetching outfits; and the show's peppy tune only added to its queer appeal.
Murphy Brown (1988-1998) Candice Bergen's now iconic portrayal of the Independent Woman of the 1990s hilariously ruffled presidential candidate Dan Quayle's feathers in 1992 after Murphy decided to raise her child on her own. The single working mother became a symbol of modern ways of child-rearing, flying in the face of traditional family values.
My So-Called Life (1994-1995) Gay teen Ricky Vasquez may not have been the main character of My So-Called Life, the beloved but gone-too-soon ABC show, but he remains the most potent part of it years later. Having that character also be a person of color was also a huge step forward for diversity at a time when LGBTQ characters were underrepresented on the whole.
Nashville (2012-present) On ABC's country music industry-set series, actor Chris Carmack plays closeted cowboy Will. The exploration of that closet in an unfriendly setting has been maybe the most interesting thing about the series in its later years.
Nip/Tuck (2003-2010) Ryan Murphy's plastic surgery show milked the homoerotic tension between doctors Sean McNamara and Christian Troy for all its worth. It did so while featuring daring storylines about transgender individuals and exploring bisexuality and the fluidity of desire in unexpected (if at times controversial) ways.
Noah's Arc (2005-2006) Patrik-Ian Polk's series — the first ever original scripted drama to premiere on gay network LOGO — revolves around four black gay friends living in Los Angeles. With a racially diverse cast, it tackled various LGBT issues throughout its run, including same-sex marriage and parenthood, HIV and AIDS awareness, infidelity, promiscuity and homophobia.
Once Upon a Time (2011-present) ABC's fantasy show follows live-action versions of cartoon characters from their most well-known properties, from Snow White to Frozen's Elsa and Anna. While the show has been known to change storylines, the romantic undertones of Mulan's feelings for Aurora nevertheless make this an unexpectedly queer series to watch.
Orange Is the New Black (2013-present) Easily Netflix's most LGBTQ-inclusive series, Orange Is the New Black portrays sexuality as fluid and flexible. Featuring Laverne Cox as a trans woman of color is also of major credit to the series. Now maybe she can have more storylines in season four?
Outlander (2014-present) Talking about sexuality and Outlander, Starz's biggest series, is difficult. When one character is portrayed as possibly gay, then clarified as a sadist, complications are inevitable. There's at least one major gay character in the books who should be coming to the series, however.
Oz (1997-2003) HBO's prison-drama show gave life to one of the most bizarre same-sex couples on television: Beecher and Keller. What begins as a prison prank to humiliate Beecher and toy with his emotions (Keller is a known sociopath) soon gave way to a more complicated relationship between these two ostensibly straight inmates. It was a relationship that included homoerotic wrestling, drunken kisses and, eventually, a Shakespearean betrayal plot that ends in tragedy.
Penny Dreadful (2014-present) Points for gayness: Patti LuPone as a scary witch, two male characters swapping a kiss early in the series' run. Points for queerness: Patti LuPone as a scary witch, the overall feeling of boundary-pushing. Points for the series being great no matter what its LGBTQ classification is: Patti LuPone as a scary witch.
Popular (1999-2001) Ryan Murphy's first stab at high school mean girls comedy was the closest the WB got to high camp, with the non-sequitur humor and fabulous zingers doled out by popular girls Mary Cherry and Nicole Julian matched only by their outrageous outfits. The show most openly dealt with LGBT issues in the episode "Fag."
Pretty Little Liars (2010-present) ABC Family's whodunnit teen thriller shows the inclusive sensibility that characterizes much of that channel's original programming. This is most clearly seen in the character of Emily Fields, who harbored feelings for Alison Delaurentis before the latter went missing, and whose blossoming lesbian sexuality is explored in the show's later seasons.
Prison Break (2005-2009) This one looks more gay in hindsight, since star Wentworth Miller came out in 2013. At the time, however, the relationship between his character Michael Scofield the other inmates definitely had homo-friendly attributes.
Queer as Folk (2000-2005) In 2015, Queer as Folk looks rather exclusive: cis, white gay men taking precedence over all other characters. In the moment, however, it was groundbreaking, and it deserves to be remembered as such.
Revenge (2011-2015) Somewhere out there is a version of Revenge that's queerer than this one was. What started with two women facing off in a battle of mental chess — wronged woman Emily Thorne (Emily VanCamp) and villainous matriarch Victoria Grayson (Madeleine Stowe) — got lost in a flurry of nonsensical twists and turns. At least bisexual supporting character Nolan Ross (Gabriel Mann) was there to keep things slightly LGBTQ.
Roseanne (1988-1997) Roseanne Barr's blue-collar family sitcom was one of the first prime-time shows to feature a recurring openly lesbian character (Sandra Bernhard's Nancy Bartlett, who came out in the infamous "Don't Ask, Don't Tell" episode that was hot point of contention between Barr and network ABC), not to mention a full-on gay wedding (with male strippers and flamingoes!) in 1995's "December Bride."
Scandal (2012-present) When characters aren't screaming "Earn me!" at each other in Shonda Rhimes' biggest hit series, the show manages to find some time for great gay storylines. The tragic marriage of Republican chief of staff Cyrus Beene and reporter James Novak stands out in memory.
Sense8 (2015-present) Perhaps the queerest show in recent headlines, the Wachowski siblings' sci-fi show not only features a gay male couple and a lesbian couple (half of whom is a trans woman) at its center, but also forcefully pushes the idea of desire as fluid. This is nowhere more apparent than in the orgiastic sex scene which connects all eight Sensates midway through the show's freshman season.
Sex and the City (1998-2004) There's a reason HBO's show about four women talking frankly about their sex lives is such a gay classic. What's underestimated, however, is how the show gently pushed against more complicated boundaries, if not always in the most elegant way (the bisexual episode was a moment of particular tone-deafness). Remember when Samantha dated a Latina woman and it was maybe her most meaningful relationship up to that point?
Shameless (2011-present) Give this Showtime series its due for featuring the most unconventional gay couple on TV. Shameless doesn't care much for breaking down barriers or including queer themes in its storylines. The tale of battling couple Ian (Cameron Monaghan) and Mickey (Noel Fisher), however, is truly unlike anything else on TV.
Six Feet Under (2001-2005) One of HBO's earliest hits was a long meditation on death, and it also gave us the most fully fleshed out gay couple in that network's history. David Fisher often functioned as an examination of repressed and conservative gay men wrestling with their sexuality, while his boyfriend (and, later, husband) Keith Charles pushed him to escape from those trappings.
Smash (2012-2013) Starring several gay male characters and being all about this business we call show, Smash was one of the gayest series on TV during its two-year run on NBC. What's strange, then, is how incredibly un-queer it is. Smash has no interest in any part of LGBTQ that isn't the G. It is the definition of making TV for a specific audience.
Soap (1977-1981) Jodie Dallas, as played by Billy Crystal, was one of TV's first gay characters. On Soap, a comedic parody of soap operas, Jodie was a lightning rod for controversy, and not just from the right. His portrayal as a confluence of queer stereotypes, including being a transvestite and taking the idea of sex reassignment surgery lightly, looks particularly ghastly in 2015.
Spartacus (2010-2013) It's probably not surprising that a show about Roman gladiators would merit inclusion here; after all, much of its fighting sequences were as steamy as any softcore gay porn (not to mention the actual sex scenes). Bonus: its inclusion of historically accurate same-sex pairings throughout various storylines.
Star Trek (1966-1969, 1987-1994, 1993-1999, 1995-2001, 2001-2005) In a franchise known for tackling social issues in sci-fi disguise, gender and sexuality were often touched upon, though rarely engaged in earnest. In fact, no LGBT character or storyline is present in any of the franchise's shows, though polyamory and polygamy were central to regular character Phlox, a Denobulan doctor. That said, George Takei's role as an LGBT spokesperson (and fanfiction pairing Spock and Captain Kirk) have kept Star Trek alive in the gay imagination.
Supernatural (2005-present) What does a showrunner do when a huge number of his series' fans want the central characters — brothers — to get together? Over the years, Supernatural has indulged fans' wishes in small ways, including directly acknowledging them in multiple episodes. The show would never actually go there, of course.
Teen Wolf (2011-present) MTV's supernatural series is a gay utopia — lots of queer acceptance, lots of shirtless boys — without many actually gay characters. Teen Wolf even had a gay couple for a while, lupine twin Ethan (Charlie Carver) and mortal student Danny (Keahu Kahuanui). It's teasingly queer but only somewhat gay, a rare flip on the teen series-friendly formula.
The Comeback (2005, 2014) Lisa Kudrow's cult TV show wouldn't be the same without Mickey, Valerie Cherish's hairdresser who early in season one balks at being outed on reality television (his sexuality is a private manner, he'll have you know). By season two, Mickey inadvertently offers a refreshing look at his casual sexcapades when he's found passed out with a young boytoy he met online.
The Flash (2014-present) There's no gay superhero show on TV right now, but we do have a pretty queer one. The Flash features gay villains, stars the queer-friendly Grant Gustin and is produced by gay creator Greg Berlanti. Still, in the age of the superhero franchise, you'd think one of them could be at least questioning his or her sexuality.
The Fosters (2013-present) The central couple on this ABC Family show is a pair of women of different racial backgrounds. One of their sons is questioning his sexuality as a teen. One character is trans. Did we mention this is an ABC Family show? It may be a conventional family series package, but The Fosters breaks down all kinds of barriers.
The Good Wife (2009-present) If CBS' best series had done better by Kalinda Sharma (Archie Panjabi), the queer Indian investigator who used her sexuality as a weapon and was fiercely protective of her friend Alicia (Julianna Margulies), The Good Wife could have been revolutionary. In its first two seasons, it was. After that, it was merely good — a missed opportunity.
The L Word (2004-2009) The lesbian television show par excellence, this Showtime series focuses on a group of lesbian friends in West Hollywood. During its six-season run, it used soapy love triangles to tell frank stories about lesbian and queer relationships, motherhood, addiction, closeted sexuality and sexual harassment.
The Nanny (1993-1999) The show that made Fran Drescher (and her inimitable laugh) a star had at its core a clotheshorse of a lead obsessed with Elton John and who was in love with her boss, a Broadway musical producer. Pretty gay for a girl from Queens, New York, don't you think?
The New Normal (2012-2013) Ryan Murphy's autobiographical look at his own attempts at starting a family via a surrogate led to this saccharine, well-intentioned sitcom that nevertheless exists as another example of white privileged gay shows whose idea of progress is marriage and a baby.
The O.C. (2003-2007) Before she was a movie star, Olivia Wilde was the girl who liked girls next door on The O.C. Her fling with Marissa Cooper (Mischa Barton) in the show's second season raised plenty of eyebrows, even if the story is quite tame looking back.
The Wire (2002-2008) Omar Little (Michael K. Williams), a gangster and man of color who dated other men of color, was a truly original character. There aren't many men like him, or many women like the dangerous-but-flawed Detective Kima Greggs (Sonja Sohn), on TV today. It's a credit to the show that their sexualities were matter-of-fact, but failing to explore their identities much further kept David Simon's beloved series firmly on the narrow side of the queer divide.
Transparent (2014-present) This is the definition of challenging boundaries while simultaneously feeling pretty safe. Transparent is a groundbreaking work for American LGBTQ television cloaked in the familiar mold of a family dramedy. It's not perfect, but for what it is, it's quite revolutionary.
True Blood (2008-2014) The entire rhetoric that surrounds vampires in Alan Ball's show ("God hates fangs") is lifted almost verbatim from the bigoted words hauled at gays and lesbians. That the show also featured complex bisexual characters alongside more traditional, long-standing same-sex couples — all the while pushing the normative boundaries of sex and desire — makes it one of the gayest and queerest shows in recent memory.
True Detective (2014-present) Creator Nic Pizzolatto is a little too straight- and male-minded for True Detective to be very queer, though Matthew McConaughey's and Woody Harrelson's characters' relationship in season one was a philosophy bro spin on homoeroticsm. Actually gay character Paul (Taylor Kitsch) in season two was decidedly less interesting, much like the sophomore season on the whole.
Ugly Betty (2006-2010) Some of Ugly Betty is fairly safe: gay characters appear as assistants working in fashion, limited mostly to supporting plots. Yet the coming-out story for Betty Suarez (America Ferrera)'s teen nephew Justin (Mark Indelicato) took the telenovela adaptation beyond the expected.
Unbreakable Kimmy Schmidt (2015-present) Radically, there is not one straight or white man among the core cast of Unbreakable Kimmy Schmidt. Instead, Tina Fey and Robert Carlock's Netflix series pushes gay man of color Titus Andromedon (Tituss Burgess) to the forefront. He's not just a funny side character, either; he's the breakout star who owns himself.
United States of Tara (2009-2011) A dramedy series focused on the dysfunctions of a family dealing with its mother's dissociative identity disorder had in Tara's son Marshall Gregson a complicated portrait of a gay teen coming to terms with his sexuality. Bonus: Brie Larson's hilarious turn as Marshall's sister, who found a side-business broadcasting internet peep shows as "Princess Valhalla Hawkwind."
Unreal (2015-present) While there are same-sex-attracted characters on Unreal, notably Christian lesbian Faith (Breeda Wool) as one of the dating competition contestants and gay man Jay (Jeffrey Bowyer-Chapman) as a producer, much of Unreal's queer quotient comes from the complex relationship between protagonist Rachel (Shiri Appleby) and mentor Quinn (Constance Zimmer). As adversarial as it is deeply loving, theirs is the most unique relationship on the show.
Veronica Mars (2004-2007) The plucky private eye played by Kristen Bell was as straight as they come, but her unwavering commitment to justice was at the center of both LGBT storylines (protecting a high school group of boys about to be outed) and those dealing with female sexual consent (the season three storyline around campus rape).
Veronica's Closet (1997-2000) Long after her star-making turn on Cheers, Kirstie Alley tried her hand at another sitcom. In this must-see NBC show, she played a lingerie company head whose marriage falls apart. The show gets its gay cred by having her gay assistant, Josh Nicolé Blair (played by Wallace Langham) as a series regular and gay icon Kathy Najimy in its cast.
Will and Grace (1998-2006) For some time, Will and Grace was the gay network show. It earned that title with no competition, featuring gay men Will (Eric McCormack) and Jack (Sean Hayes) as two of the four central characters. Though safe-seeming now, it was quite groundbreaking in modern day. Plus, the flexible sexuality of Megan Mullally's Karen intrigued constantly.
Wonder Woman (1975-1979) The Lynda Carter-led DC television series based on everyone's favorite Amazon remains a touchstone for many gay and lesbian viewers for its depiction of a strong, resourceful superhero who also happened to be rooted in Greecian origins that upended gender norms. Bonus: the fabulous outfit and the iconic twirl.
Xena: Warrior Princess (1995-2001) The tacit (and all but undeniable) understanding of Xena's tender relationship with Gabrielle, her female companion, has fueled many a fan fiction volume. But beyond this, the warrior princess' message of feminist empowerment has made her a long-lasting lesbian icon.
90210 (2008-2013) The remake of Beverly Hills 90210 featured gay characters more prominently, including series regular Teddy Montgomery (Trevor Donovan) and his love interests. As a hunky white gay man played by a hunky white straight man, however, Teddy didn't exactly push boundaries.