13 Outrageous Facts About How Much Carlos Slim Helú Is Worth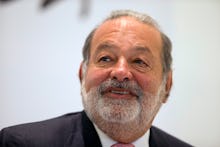 Carlos Slim Helú is rich. Very rich. The Mexican business magnate is one of the world's three richest men with a net worth of $63.3 billion, a fortune he made in Mexico's telecommunications industry and from investing in other nations' energy sectors, among other things, according to Bloomberg.
Helú and his family control over 200 companies in Mexico, but his wealth expands far beyond his home country, the New Yorker reports. The 75-year-old businessman has been investing in industries abroad, funneling his wealth into countries like Brazil, Colombia and Peru.
Here are 13 outrageous facts that put Helú's wealth in perspective:
2. His personal wealth tops 144 of the world's gross domestic products, or 73% of all countries, according to the CIA. In fact, Helú's net worth is higher than the GDPs of Bolivia, Bermuda, Aruba and Montenegro combined. 
3. He also happens to be the 14th most powerful person in the world, according to Forbes. Helú's power is largely attributed to his position in a number of high-profile companies, including Latin American telecommunications giant América Móvil.
4. Helú's net worth is greater than what it cost the U.S. government to extend Bush-era tax cuts each year after 2010 ($60 billion annually). 
5. It's also double the size of the annual budget for the National Institutes of Health.
6. A wild day in the stock market in August caused 17 billionaires to lose major investments. Although Helú lost roughly $1.6 billion Aug. 25, according to Fortune, the loss barely put a dent in his overall net worth. 
7. Estimates put the business mogul's yearly earnings at nearly $2 billion. If the average American family, which earns $51,000, lost what Helú did in August, the stock market would have set them back by over 80% of their annual income, or over $40,000, in one day. 
8. If he's able to sell his lavish New York City mansion for his asking price of $80 million, it would be the most expensive townhouse sold in the Big Apple, according to Business Insider.  
9. Helú could purchase all Major League Baseball teams, which would set him back about $36 billion. 
10. He could even tack on the Los Angeles Lakers, New York Knicks, Chicago Bulls, Boston Celtics and Los Angeles Clippers to that purchase and still have billions of dollars leftover. Those six NBA teams alone would cost Helú $10.4 billion. 
11. Separately, Helú could also purchase the most valuable teams in sports from around the world. If the business magnate purchased the Madrid soccer team, the Toronto Maple Leaves hockey team and every single highest-earning tennis player's brands, he'd still have more than half his total wealth.
12. Islands.com ranks the top 10 most beautiful, luxurious islands for sale across the world. Helú can purchase them all. The price tag would cost $36 million, or .0006% of his net worth.
13. Money doesn't seem to ever run out for Helú. Even if his several hundred companies were all to fail, the multibillionaire could use his net worth to purchase some of the most expensive companies in the world, including McDonald's, Coca Cola, IBM, Facebook, Samsung and Toyota individually.