Cosby Accusers NBC 'Dateline' Special: Date, Time and What to Expect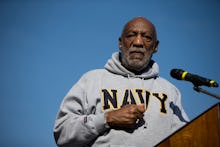 Longtime comedian Bill Cosby has been battling accusations of sexual assault for more than a decade. That fight will take center stage on Friday at 9 p.m. Eastern, when 27 of Cosby's more than 50 accusers appear on NBC's Dateline to discuss the case and their encounters with Cosby. The mass interview will mark the first time more than half of Cosby's accusers gather on one stage to speak openly about their experiences, Variety reports. 
"I trusted him," says one unnamed accuser in an NBC commercial teasing the special. "He was the biggest entertainer in the world," says another. 
"I will keep talking until somebody listens," adds a third accuser. 
Dateline's dedicated Cosby episode follows a similar special that aired on A&E on Sept. 17. The episode, titled "Cosby: The Women Speak," featured interviews with a dozen of the women who have accused Cosby of sexual assault. Cosby did not appear on A&E network's special, nor will he appear on Friday night's Dateline episode. 
In July, a New York magazine cover story detailed 35 women who have announced claims against the comedian. 
"I believe that the voices of accusers have had an important impact in the court of public opinion and on Mr. Cosby's reputation and legacy, and that it has been empowering for women to tell their stories," attorney Gloria Allred told USA Today in an emailed statement when the A&E special aired last month. "I do not know if this will cause Mr. Cosby to break his silence or not."
The latest legal development in the Cosby case came in August, when a California judge ordered Cosby to undergo a formal deposition. 
"Mr. Cosby's deposition will take place on Oct. 9 and our client's deposition will take place on Oct. 15," Allred confirmed in a statement to USA Today. As of Aug. 5, Allred was representing 17 Cosby accusers.