Ashley Judd's Powerful Sexual Harassment Revelation Is One Example of How Prevalent It Is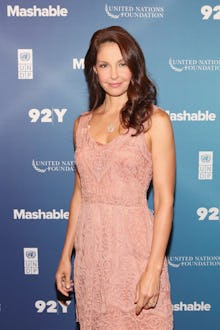 Ashley Judd is no stranger to speaking truth to power. The actress and feminist activist has spoken out about countless issues like sex trafficking and online harassment. Now, Judd is shining a spotlight on another rampant issue — one, it turns out, with which she has personal experience: sexual harassment.
Judd's story: On Tuesday Judd revealed to Variety that a well-known studio executive sexually harassed her, inviting her to his hotel room under the guise of business and eventually even trying to convince Judd to watch him shower. Despite being a self-declared feminist and considering herself empowered, Judd said, she internalized the treatment and remained silent for years. 
"He was very stealth and expert about it," Judd told Variety. "He groomed me, which is a technical term — 'Oh, come meet at the hotel for something to eat.' Fine, I show up. 'Oh, he's actually in his room.'" 
The situation escalated, Judd said, and included the executive physically luring her and a process of bargaining.
"When I kept saying no to everything, there was a huge asymmetry of power and control in that room," she told Variety, also noting that this power imbalance eventually led her to internalize shame.
She isn't alone. The actress said she didn't realize just how inappropriate and damaging this situation was until she talked to other actors who said they had experienced identical scenarios. 
"I have a feeling we are a legion," Judd told Variety. "There was a mutual strengthening and fortification of our resolve. ... Part of the strategy that keeps girls and women constrained in their professional experiences is retaliation and ridicule."
And though this group of women shared a single harasser, they also share a similar, general experience with many other women. One in 3 women has been sexually harassed at work, according to a 2015 Cosmopolitan survey, and 65% of American women reported experiencing street harassment, according to a 2014 survey. And it starts young: An incredible 85% of respondents to a 2015 survey conducted by Hollaback!, a project focusing on reducing street harassment, reported experiencing harassment for the first time before the age of 17, and 67% had experienced it before the age of 14.
It's a phenomenon that is particularly rampant in Hollywood. Other performers like Christina Hendricks and Jewel and many other industry insiders have also spoken out about being harassed on the job. Studies show harassment has real, harmful effects on those who experience it, including PTSD, which can in turn cause anxiety, depression and other damaging problems.
The power of story-sharing: While the problem is certainly one deeply entrenched in our culture, it's also one women, like Judd, can powerfully combat by simply speaking out about it. In fact, studies show that storytelling is a powerful method of reducing stigma and inciting cultural change.
"Talking to other people is so crucial," Judd told Variety. "We're individually and collectively coming to a realization and acceptance that this is an entrenched part of the reality, and I think that talking about it is essential to the process of becoming aware, accepting that this is reality and then ultimately taking action." 
h/t Variety