Kurt Cobain "Sappy": Lyrics and Streaming Options for First Single From 'Montage of Heck'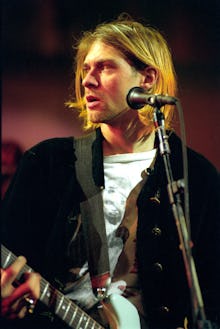 Nirvana fans have been counting down the days until Nov. 13, when unreleased recordings from the band's late frontman, Kurt Cobain, will go on sale. The compilation of Cobain recordings will be bundled together on an album titled Montage of Heck: The Home Recordings. In advance of the release, one track from the album, an early demo of Nirvana's "Sappy," hit the Internet on Monday.
Yet because not everything in life can be too easy, the album's homepage creatively gamified the release. Cobain fans who work through a digital jigsaw puzzle are rewarded with album art for Montage of Heck: The Home Recordings. 
In the earlier versions of Nirvana's "Sappy," released as a secret track in 1993, the lyrics read, "And if you save yourself/ You will make him happy/ He'll keep you in a jar/ And you'll think you're happy." Yet on this lo-fi, slow-burning version of "Sappy," Cobain replaces the "him" with "me" and the "he" with "I" more than once.
The album follows a documentary, Kurt Cobain: Montage of Heck, released on Aug. 7 and also coming to DVD on Nov. 13. The tell-all film, directed by Brett Morgen, details the intricate career and personal life of the late rock legend. The forthcoming record will boast a treasure trove of Cobain's personal recordings, all of which make an appearance in the documentary.
"The score is all unreleased Cobain music," Morgen explained in a Jan. 28 interview with Rolling Stone. Because the film focuses more on the details of Cobain's life and less directly on his music, audiences only heard snippets of what will appear on the record. Calling this material exclusive doesn't quite do it justice.
"Before people saw the movie, there were these weird press releases focusing on the unreleased music," Morgen told Rolling Stone. "And it's like: It's a movie. We're not going to stop it and play a song for four minutes. But nobody in Kurt's life — not his management, wife, bandmates — had ever heard his Beatles thing [a snippet of "And I Love Her"]. I found it on a random tape."
As we wait for the record to drop, put the "Sappy" demo on repeat and dig into the album's companion documentary as a primer for the long-awaited listening party in November.