This 22-Year-Old Designed a "Heated" Jacket So That You're Never Cold Again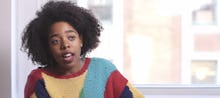 The year is 2015, and 22-year-old Madison Maxey is ready to make all of your jackets heated. No more shivering walks to the office. No more shivering at the office. 
How is she doing it? Maxey isn't your typical fashion designer. She's a self-described creative technologist, and from the start of her brief but impressive career as a designer, she's been inspired by clothing that can be made useful with the help of technology. 
With all the innovations currently bursting from the tech world, blending them with garments might sound obviously easy. But what Maxey is doing is something that's eluded so many other companies: infusing garments with technology to fix real-life problems.
Like a jacket that can actually heat you up from the inside out. 
Designing the most functional clothing ever: Maxey's heated garment, which she calls Kelvin, uses "printed soft circuitry," meaning electronic circuit components integrated into a thin, liner-weight jacket that is still soft and wearable, but controls the temperature of the wearer. 
Kelvin may sound sci-fi, but it was made to solve a very specific problem experienced in the day-to-day. 
"We surveyed New Yorkers to best understand if this garment could have a place in their closets, and commuters like the idea of being able to wear a blazer in [a New York City] winter and stay warm walking to work," Maxey told Mic.
On the surface, it's just one more example of "wearable technology," a phrase thrown around more and more these days as clothing and tech intersect. Some fashion designers have taken to throwing digital features into their garments, while tech companies have been making their devices wearable.
But Maxey wants to apply innovation to real problem-solving, not just gadgetry. As Brooklyn Magazine put it, "Think less of a tank top that can send text messages and more of a climate-controlled jacket."
Maxey's approach to tech is rooted in the organic way she stumbled upon it. After launching a line of blazers with the help of Kickstarter, Maxey knew that she had to eventually learn how to program and code her own website. The project sparked an interest for the then-19-year-old that would turn her into one of the leading young minds in the fashion tech world.
"I realized that once you learn something how to make something, all you want to do is continue making things for yourself," Maxey told Mic.
She started connecting with fellow students at Parsons School of Design, where she was then enrolled, who were equally excited about nerdy tech matters, like how many batteries are needed to light 2,000 pixels at once. After she ended up leaving Parsons, she tried her hand at specific projects that applied tech to fashion design, including technology that could optimize pattern-making to cut down on production time and labor. 
It was her first real attempt at an idea that uses tech to improve fashion, and the research for that earned her the prestigious Thiel Fellowship in 2013. She became the first fashion designer to win the award, at just 20 years old.
Integrating technology directly into clothes: Plenty of companies are infusing fashion with technological innovations, going beyond the starting point of making tech wearable (hello, Apple Watch) to actually applying technology to clothing design.
The most common fixation in the world of fashion is 3-D printing. Chanel recently sent a model down the runway in a 3-D printed suit. On Wednesday, designer Iris van Herpen had actress Gwendoline Christie lie in the middle of her Paris Fashion Week runway while a 3-D printed dress was formed around Christie in real time. 
When it comes to actually solving problems with high-tech garments, headlines have been popping up showing capes that respond to the male (or female) gaze or sports bras with mini vents that respond to body heat.
For Maxey, winning the Thiel scholarship gave her the time and funds to launch her own company, the Crated, which focuses on creating second-generational wearable technology — a fancy term for tech that is invisible, or integrated directly into the garment itself. 
"Second generation wearable tech [is] where the technology is just part of the clothing, and it's hidden," Maxey told Brooklyn Magazine. "The goal is to create natural interfaces for the clothing we already wear to perform better chemically, structurally and electronically."
Previously, she had a hand in innovating the technology for an audio-responsive T-shirt and a light-sensitive T-shirt. She was also approached by Google and Zac Posen to create the electronics for a programmable LED dress that lights up for the showing of his Zac Zac Posen collection in September. 
To date, it was the first LED matrix dress at New York Fashion Week. Model Coco Rocha walked it down the runway.
Those past projects were about tech being cool without a great deal of functionality. The heated jacket, on the other hand, takes things to the next level by integrating the technology into something wearable, which then any fashion company could use in their garments.
"The goal with this is to enable fashion companies to ignore electronics, design a jacket they love and use Kelvin to add smart garments to their collection," Maxey said.
So far, Maxey's working to partner with a few companies on this, with a selling point that the technology necessary wouldn't really cost that much at all. She says that the components for turning the jacket into a heated jacket are around $30; it's just that pesky supply chain and labor, which is where costs could steepen. 
"Our goal is to work with fashion companies to help them integrate technology into their apparel collections in a simple, seamless and invisible way," Maxey said. 
What's next for wearable tech: When Maxey looks towards the future of tech and fashion, she sees more and more designers wanting that extra, surprise punch. 
"I think they're headed towards invisible integration," she said. "Backlit screens and LED-covered garments are just part of the progression towards invisibly technological apparel."
As far as what Maxey wants for the future of this tech world she's carving for herself now, she wants to continue the use of functional technology in clothing.
"I'm most excited for chemical advancements that mean clothes clean themselves, or electronic advancements that let our garments harness kinetic energy," she said. "I get jazzed up about high-utility fashion and tech combinations for industry, health care and beyond."
We'd buy it.